Sylvanian families are a series of little woodland animals who live in the fictional town of Sylvania in a British, 1950s, middle class setting. There are many adults around the world who collect these figurines, but there is a special function here for the children to enjoy them too. We tested out the Sylvanian Families Supermarket and found some really useful aspects to this toy set.
PLAY
The first and most important aspect of any toy is the ability to be able to use your imagination and create stories as you play.
The Sylvanian families most often come in a group of Father, Mother, Sister and Brother. It's very useful for play therapy to use these family components to play out the dynamics in your family. It's also commonplace, as Nicky played with the toys, to let mom and child do the shopping (as we often do), even to the point where we load the groceries and get in the car afterwards.
Nicky obviously chose items he liked (like ice-cream) but he was also considerate of the fact that they were bunnies so he made sure they had a carrot.
2. EDUCATIONAL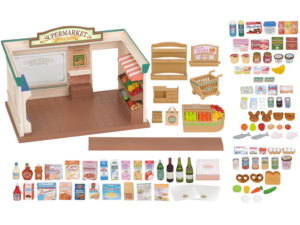 Setting up the supermarket is quite a business and many of the items needed to be folded and stuck together. This facilitates fine motor skills.
The abilities to sort and match are also part of the process. I like that the little fruit and vegetables must be matched to their station. Nicky liked fitting them in their slots and finding the rest of their group.
All the groceries also have to be sorted into shelves and fridges. You need to decide what needs to be frozen, refrigerated or shelved, and which items will fit where.
Admittedly in the beginning I did help Nicky (5 years) with a lot of this, but in subsequent playing with this set he has sorted it out to his own desires and insisted that I do not interfere. I think he's taken pride in setting up his own shop.
3. LONG LASTING
It appeals to me that these are collectible items and can be passed down through the generations. They are beautifully made, with incredible detail on the labels, with the cutest little outfits, and the supermarket itself has a solid structure.
4. CREATING ENTREPRENEURSHIP
Together with the supermarket set comes a little book. The book has a story about how two characters made more money for the supermarket by adding on some extra value: deliveries and tasting cupcakes. .(Please excuse this image: we had an accident with some juice…)
I think the supermarket is a setting for something greater than consumerism. It's also a place to play out scenarios and stories about the shop. For my child something simple like: how will you solve the problem of the can falling down? (Find another shelf.) But for the older child maybe there are deeper questions like: How will you make sure your customers obtain the best service? They will be open to these kinds of discussions and the toy provides a good starting place for that.
5. ADDING THE #CheckersLittleShop ITEMS
Many shoppers across South Africa have been intrigued by the little brand items Checkers has been giving shoppers for every R150 spent. I admit, I'm normally a Pick n Pay shopper but for the past two weeks I've been suckered in so as to build a small collection for our supermarket.
Now I'm well aware that the Checkers items are slightly too big for the supermarket and don't quite fit in the shelves. But. There are ways around this. There is space at the top of the shelves and also along the edges. A good idea if you want to go this direction is to remove the boxes and then you will have more space. I think the nice thing about using these items is that they are very South African and relatable. So buying Milo and Ouma will add further realism to your game.
Remember when I said it was a collector's item? There are even bloggers who devote their whole blog to Sylvanian families. South African ones too – check out this one: Lady Lolipop's Sylvanians.
Someone else worth investigating is speaker and author Nikki Bush who also takes videos a lot better than I do.
You can check out Sylvanian families at your local toy shop. Here is a picture I snapped at my local Toy Kingdom.
There are many Sylvanian family items but I do think the supermarket has a lot to offer on many levels. Introduce these little critters into your home and you will find that both boys and girls will enjoy building and shopping in them.
Disclosure: SA Mom blogs was provided with the Sylvanian Families Supermarket to review.