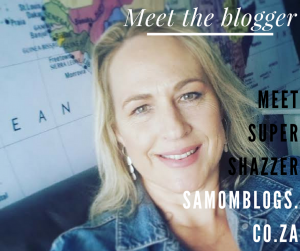 Today we meet South African mom blogger Sharon Atkins (aka Super Shazzer) who advises us to build up our social media with an excellent profile and content. She says we should create our own "niche" – something that sets you apart from other bloggers.
What do you normally get up to on an average day? (Give us a brief description about yourself)
Mornings are spent dropping Matthew at school then a group cross fit training session, home for quick shower and breakfast.
I am a freelance writer and social media manager so spend the morning working on my clients' accounts researching, writing and posting content.
I fit in my own writing in the evening or some early mornings.
Afternoons are spent on the school run and activities and squeezing in work if I have a deadline.
2) How do you feel about motherhood – what are your struggles and joys?
Parenting is not easy! You have to manage the worry and stress and balance it with the rewards and blessings.
Time just flies by with kids and it is such a joy to see them grow up and develop their own special characters.
Struggles- the everyday routine, lunches, homework and bedtime. Not enough time for myself and also time spent with my husband. The discipline and boundary challenges.
Joys- the hugs and cuddles. The rewards when they surprise you with their good manners, behaviour and generosity. Watching a unique special being evolve and guiding them along the way.
3) Tell us about your kid(s)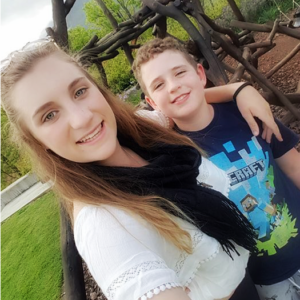 My step-daughter is Sydney and she is 16. She is smart, gorgeous and funny and loves clothes, animals and her friends.
My son is Matthew and he is 9. He is a very busy and is always coming up with a business scheme. He loves cooking, cats and travel (especially on Emirates).
4). How did you start blogging?
I started writing content for clients for their social media platforms and blogs and then thought why not write my own stories and share these.
I use it to share what inspires me and what I love. I use it as a diary of events for myself and for my family.
I use it to inspire, inform and motivate others.
5) Share with us a valuable blogging tip you've learnt. (or more)
Stay true to yourself, tell your story in your own way. Create a niche for yourself, a point of difference, something that makes you unique compared to other bloggers.
Create a strategy and a plan. If you are going to share, post or publish pictures make sure they are well shot and have visual appeal.
If you don't have already create a professional profile for yourself on LinkedIn and a business Page for your Blog. LinkedIn is a place where you can share content, build up great connections and network.
6) If you make money from your blog, give us a breakdown on how you do it. Give us some of your methods on how to get started on this, or any tips or advice.
Grow your social media platforms and followers. Write great content. Build relationships with PR companies and align yourself with brands that you admire.
Set your rates from the beginning and do not be nervous to stick to them. Know and understand your worth and value.
My links-
Website http://www.supershazzer.com
Facebook https://www.facebook.com/Supershazzerblog
Twitter https://twitter.com/Supershazzer
Instagram https://www.instagram.com/supershazzer/
Pinterest https://za.pinterest.com/supershazzer/