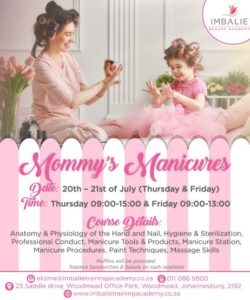 Have you always wanted the secret to crafting the perfect set of nails? Perhaps you've often fancied yourself opening your own beauty shop (or working in one) but never quite got the idea off the ground? In celebration of Imablie Beauty's training academy, we're giving away a manicure course valued at R2200. So now is your chance to test your beauty skills out with some new nail artistic abilities.
Have you noticed that the beauty industry is recession proof? So no matter how bad things are, women will still come to keep up appearances. It makes us feel better to look good, after all.
The Academy distinguishes itself from all other educational institutions by its extensive
academic and practical training process, which is implemented and monitored by the top
leaders in their prospective fields and executed over four phases.
Phase 1: Theoretical .
Phase 2: Practical: A subject matter expert guides students in readiness for the next phase.
Phase 3: Incubation: under the watchful eye of a mentor.
Phase 4: Job Preparation and Placement Phase: assistance with interview skills and the opportunity for employment in one of their many beauty salons or wellness centres,
nationally.
I had the pleasure of having a facial with the facial with the Principal – Lisa Leibov at their Johannesburg and not only did I feel like I was in expert hands, it was so relaxing I practically fell asleep! A few weeks later I had a pedicure at the Placecol Spa (which is also part of the group) and that was much needed for my feet.
I think the other thing about beauty treatments is that they really help us ladies care for ourselves in a very practical way. We make time in our day for self care, something that often comes last on our list of priorities, although it shouldn't be.
So take the time to enter the world of beauty for a bit, and discover one of the staples of the industry: manicures. Here are further details about the course:
Date: 20th – 21st of July (Thursday & Friday)
Time: Thursday 09:00-15:00
Friday 09:00-13:00
Course Details: Anatomy & Physiology of the Hand and Nail
Hygiene & Sterilization
Professional Conduct
Manicure Tools & Products
Manicure Station Set-up
Manicure Procedures
Paint Techniques
Massage Skills
Food: Muffins will be provided, Toasted Sandwiches & Salads on cash available
Venue: 23 Saddle Drive, Woodmead Office Park, Woodmead, Johannesburg.
Would you like to win this course?
Blog post comment: tell us why you think it would be worthwhile to go on this course
Follow two of their social media. You'll the academies are both in Joburg and in Cape Town but the prize is in Joburg.
Gauteng:
Visit Facebook: Imbalie Beauty Academy Woodmead
Follow Instagram: Imablie Beauty Academy
Western Cape:
Visit Facebook: Imbalie Beauty Academy Western Cape
Follow Instagram: Training Academy Western Cape
T&C's
This competition will run for a month. The winner will be announced on the Facebook page, and emailed.
This competition is open to SA residents only who would be able to attend the course in Johannesburg, 20th – 21st of July (Thursday & Friday)
The prize is not transferable.
If you have won on SA Mom Blogs in the past 3 months you will not be eligible to win this competition.