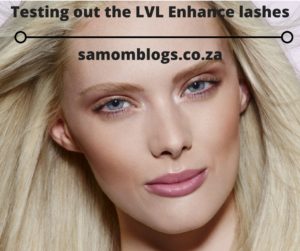 LVL Enhance lashes are a unique way to give your face a lift. Let's be honest. As moms we don't have ten minutes to apply mascara, separate lashes and curl them. LVL does it all for you and it lasts 6-8 weeks.
So what is LVL? It is Length, Volume and Lift. So basically, a serum straightens your lashes at the root (giving them the curled effect), and then the lashes are tinted, giving them the look of mascara.
I
think what I liked most about it was that it looked completely natural. The lashes curl up separately, darkly, and look fantastic.
Here is the step by step process we followed to create this:
Bonding gel
Lifting gel: from the root to halfway up the lashes
Volumising fix – placed on the same area as the lifting gel
Tint
Moisturising serum – to remove the bonding gel
The process took an hour an inbetween waiting for different parts to dry, I received a lovely massage.
I do find eye treatments a bit sensitive on my eyes. Every time I have my brows waxed my eyes tear up and go red. But what can we do, we must suffer for our beauty! There were a few times some liquid went in my eyes and I went forward to let gravity get it out. It was not so bad and I recovered ok.
I do see, doing a bit of research, that I was meant to have a patch test 48 hours before the treatment to check if there would be any reactions to the serums. Fortunately I didn't have any reactions though.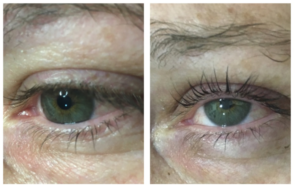 Here are the before and after pics. As you'll see, I don't look as glamorous as the model. I seriously need a brow wax as well. But you can see the difference in the lashes.
Would you try this treatment out?
You can find out more about this treatment on the website Nouveau Lashes , -that's where the model comes from too!
Thanks also to Rene from Rene's Beauty Clinic in Linksfield for doing the procedure. (she says she normally charges R595 for this procedure).
This video is also a really good demonstration of the procedure.
Disclosure: SA Mom blogs was provided with the experience for review.