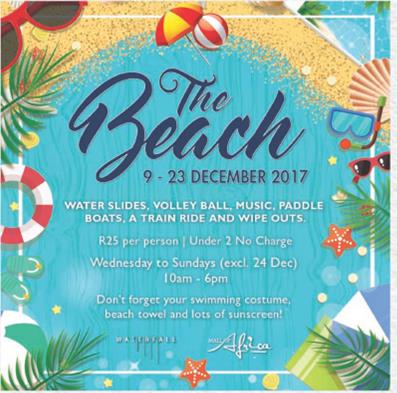 For those of you in Gauteng not travelling to the beach, there's a fun play area at the Mall of Africa where kids can run around and have some summer fun. Ok, so there's no actual sea or waves, but there is sand, water slides and boats. We visited this venue on Saturday and had a great time.
Outside the "Beach" area at the Town Square there is a little playground which Nicky played in when we got there. These play areas are modeled after the Shongololo creature: an invitation to wiggle, balance, hang, climb, jump and have fun!
Next we boarded the Hamley's train which took us around the "Beach" area. Nicky liked the part where we went under a "tunnel" which is where the toilets are at the back of the venue.
The Hamley's train is active from 10am till 7pm everyday and starts at the Hamley's store on weekdays and at the park on the weekend. Train rides cost R25 and can be bought at the Hamley's store, the information kiosk on the upper level and the train driver.
After this he played in the giant sandpit. There are loads of buckets and spades throughout this area.
Next we went to the water area and Nicky went on a boat! This boat requires that you have to turn a lever to make it go, so I think it was a good challenge for him.
The water slides were next. Even a year ago I'm not sure if Nicky could have climbed up that massive ladder but up he went and down he slid! He absolutely loved it! He went up and down several times.
There was another slide next to it, a smaller one, but Nicky took a while to climb up and when he went down he basically went under water! So that was enough for him. At this point he was shivering so I changed him and we went in search of other activities. There were quite a lot of bouncing castle type structures so we did that for a while.
Then he decided to try the mechanical wave. I think older children might find this easier but he managed to do it from a partially sitting position!
Nicky also kicked some balls around in a blow up soccer structure and played a bit of beach volleyball.
Finally, we finished our trip with an ice cream.
Thanks Mall of Africa! We had a great time.
It was also good to see a lot of bloggers there!
"The Beach" will be running at the Mall of Africa from 9 till 23 December at R25 per person (under twos are free). From Wednesdays till Sundays 10am till 6pm.