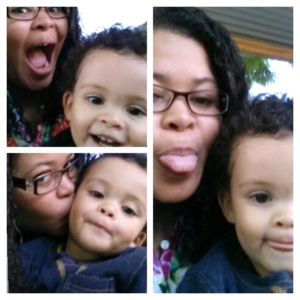 Welcome to the first in our series on SA Mom Bloggers. Here's Eleanor:
1) What do you normally get up to on an average day? (Give us a brief description about yourself)
Me? Well I'm a soon to be 30 year old who works for a large media company. I'm a journalist by trade, but chose to go into layout and design to have more stable working hours as a mom- ja right. I'm married to a ex-soldier/ex-fireman who now works as a detective and is incredibly supportive with all my pursuets, this includes, blogging, freelance writing, photography (www.mybutterflylens.blogspot.com) , crafting and creating natural beauty products (I get bored really quickly).
We are the proud parents to an alternative thinking one-year-old, the type who doesn't see why he should put the shapes through the shape sorter when you can just open it up and shove them all in. We are also the parents of an angel child who passed away at two days old due to pre-term birth brought on by placental abrupture
2) How do you feel about motherhood – what are your struggles and joys?
Motherhood is soooooooooooo scary but also so rewarding. Aidan was born with water on the lungs so had to spend his first days in NICU (same place his brother passed away) he then had bad reflux and colic so I started out the "mothering thing" feeling pretty overwhelmed. He was sick, I was emotional (He was born on the eve of my God-mother's funeral) so emotions were high. But in time things have settled and I could not be happier. Like most working moms I feel guilty when I'm at work and overwhelmed when I'm at home but the one thing that is always there is that I can't believe how lucky I am to be his mom.
3) Tell us about your kid(s)
Aidan is a curly haired munchkin and at 15 months old he is already so full of personality. When I was pregnant, my husband and I prayed that he wouldn't be as shy as the two of us were when we were kids and have ended up with the exact opposite.  He is mostly described by others as friendly and confident and they are not wrong. He would be pretty happy to hug random strangers and even "shares" food in grocery store. He is a quirky kid who only eats fruit (HELP ME) and counts to three by showing 1 on one hand 2 on the other and says the number 3. He is crazy busy and keeps me on my toes.
4). How did you start blogging?
When I decided to give up full time journalism I was afraid that I wouldn't have an outlet for my writing so my blogging started. It used to be all fashion and events, but with time it has grown with me and now focuses on these 5 key points 1.Pictures of my life 2.Lessons of motherhood 3.Crafts  4.Interview with interesting people  5.Fashion, beauty and hair (I have taken on the natural hair journey).
5) Share with us a valuable blogging tip you've learnt. (or more)
I've learnt that you need to be true to yourself. My blog became way more popular (not that it's on the top list or anything) when I became more honest with my readers. There are so many copy and paste blogs out there so being authentic is the only way you can make yourself stand out.
6) If you make money from your blog, give us a breakdown on how you do it. Give us some of your methods on how to get started on this, or any tips or advice.
I do a few sponsored post now and again and I have google ads on my blog, but it certainly doesn't go a long way at all. But who knows maybe in time people will give me free things to review, I so miss free things from my time as a lifestyle reporter, hehe!
You can contact me through:
My blog: www.justellabella.blogspot.com
Twitter: www.twitter.com/justellabella
Pinterest: www.pinterest.com/justellabella
Instagram: www.instagram.com/justellabella
Want to featured? Check out this page and these questions and let me know.