Each time we have a meetup there seems to be a different theme of the day and this time I really think we really enjoyed a good mix of bloggers, brands, and the folk who connect the two: public relations. We had some good conversations, not only from the speakers but also from the audience chipping in, so I honestly feel so grateful to be in a place to be bringing all these people together.
In the week leading up to this event a few challenges were thrown my way which really made me feel like a South African mom.
On Tuesday afternoon Nicky and I were lying around on the couch. I moved my head one way and he turned another and his head connected with my eyebrow. I actually had a good cry because I really wanted to look presentable for this meetup and a black eye was not part of the plan.
The next day two robbers decided it was a good time to rob our home. They got away with three TVs and would have plundered more had it not been for my neighbour who yelled at them.
In the midst of this I have discovered that help is at hand and people can surprise you with their generosity. I am so grateful to our neighbour and the fact that they did not touch the #JoziMeetup stuff that was just sitting there and my laptop was still there. I also think there must have been angels around.
The fact that I still looked good on the day is entirely due to Isobel. Isobel is a hair blogger who has recently opened up her own hair salon at 309 Bryanston Drive (0110538880). She caters for all hair types although she has a lot of African resources on her blog, MzansiFro. My hair was cut by David who did two colours, a blonde and a light brown so that it won't look so unnatural when it grows out.
Right next door was a beauty salon (Dr Baumann) and they hooked me up with concealer and foundation for the eye. Now concealer pencils I have used in the past have been hard and not condusive for a bruise but this one just glided on. And honestly, unless you look closely, you won't see it.
In any event the day dawned dark and rainy, but undeterred the meetup carried on.
Representing bloggers in the equation was Mike Said, from Daddy Blogger. Mike describes himself as "just a waiter that got lucky" but actually it must have been more than that to win Brand Builder of the year for Mugg and Bean in 2003. He is a brand strategist at MikeSaidWhat and assists companies in their brand strategies and integrated marketing plans.
Mike told us all about his #16Stays16Days #Ultimateroadtrip. He wanted to create a special holiday for his daughter Sasha out of necessity.
He wrote a letter to various brands about the trip, outlining who they were (adventurous, together with a signature pose of Sasha balanced on Mike) together with all their social media details. He drew up an agenda, showing other brands already on board. He also made a series of T-Shirts, one for each day. His first success was from Samsonite luggage and with that, they were off.
Many of the guest houses appreciated a write up on Travel Advisor and he also enjoyed other adventures such as canoeing and hang gliding. His only negative experience was with the paragliding but he preferred to give them feedback.
Mike had a few tips for us as bloggers:
– authenticity is priceless. He described how he cannot promote eg baby goods as he no longer is in that stage. He won't be a brand ambassador for an unrealistic amount of posts every month that are fake.
-use the product. Brands can take their own airbrushed pics but you can take photos of the product in use.
-be a brand yourself
-charity: good to be involved and give back. He told us how he gives out hugs and chocolates on Mother's Day.
Mike's next holiday project is a mobile home made from upcycled materials. He is still in the process of constructing the camper but I can't wait to hear more about how this adventure turns out.
Public Relations Officer Nicole Sparrow from Autograph PR was up next to tell us about what is essential on your blog to be noticed by brands.
1. Your own domain name. Brands prefer you not to be on free hosted blogs such as wordpress.com or blogspot.com.
2. A modern, relevant look and feel. Your own brand identity. There are many free themes out there you can use.
3.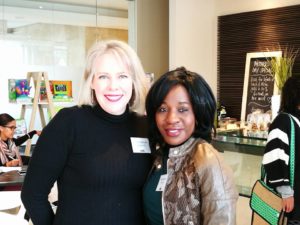 Write well with an authentic voice.
4. Responsible writing. Readers prefer a balanced review. You don't have to gush but put negative comments in context rather than trashing a brand.
5. Production value. Use lighting. Don't do a lovely make up tutorial but forget to iron the sheet in the background.
6. Fresh content. Blog 2-3 times a week. Engage with your audience. Be someone who stands out.
7. Social media. Have a presence on Facebook, Twitter, Instagram and YouTube with frequent posts. You do need followers but know that brands and PR are skilled in identifying fake followers and their are tools online to check this.
8. Media Kit. You need something to show off your branding with a little bit about you and your social media stats. You do need a rate card too but try and build a relationship with someone before you pass it on. (You can see an example of ours here).
9. Get noticed: Write something about a product and send the link to the PR, and tag the brand. Interact with the brand's social media accounts.
10. Be innovative and pitch a new idea. Collaborate.
What PR don't like: poor production, freebie hunters, brand trashing, last minute proposals, rudeness and being unprofessional, and of course, bought followers. Be honest if you don't want something delivered: don't sell it online, rather tell them you don't want it.
Finally a note about the brands present on the day.
MatsiMela had some lovely products on display and everyone was treated to a lovely hand massage with their body butters, Unfortunately Samantha was sick and not able to chat to us, but I have to say it is a lovely home spa product. For more information on them you can read my post here.
Prima Baby showed us some interesting products. We liked the stroller that you can fold down with one hand (as demonstrated by the crafty Krystle) and a cute car seat with flamingos on it together with a strap that makes sure they don't escape. They have summer and winter blankets and our bloggers were particularly taken with the glow in the dark fleece blanket. They even have a temperature indicator on their blankets that tell you by how much baby's temperature would rise while using it.
"Let them Play" was the title of Prima Toy's talk from Veruska and I couldn't agree with her more. Play is an essential part of growing up and kids just need to be kids. But did you know that there is a whole list of benefits to play? Kids learn social skills, planning skills, communication skills, listening skills, story telling, negotiation skills, role play, fine motor skills and exercise for your muscles. (You can see Veruska in action on Twitter here).
One tip Veruska shared with us that I found useful was to calm a kid with a small item to distract them from the big one which you want to keep for Christmas or their birthday. Prima Toys have some great little collectibles in packets and also the Shopkins range. I used this trick straight afterwards when I did my grocery shopping and Nicky was sitting at a remote control car and begging for it. I saw a collectible packet nearby and we could move on.
We then had Jeannette share with us a Whisky tasting. I have to commend Jeannette for coming up with all those glasses at short notice. She also gave us a very sensual experience, experiencing not only the taste but also the colour and smell.
The goody bag was overflowing. I don't think I will be able to top this one again. Isobel has done a video of it over here on Instagram.
I'll also include some lovely pictures from Jeannette that she also put on Instagram.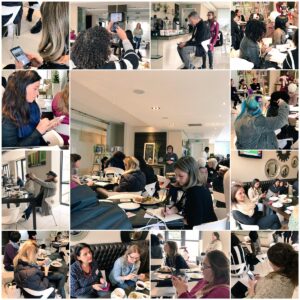 Funso also took some amazing pictures many of which are in this post. How's this one with everyone on their phones? So typical of us bloggers posting on social media. I'll end off with some pictures of the bloggers themselves so you can have a good look.
For more info on the meetup check out these posts:
Melissa wrote a nice one which also included an interview of us meetup planners to give a background to the event – #JoziMeetup: "Working With Brands" + Hosts Share Details Of Planning
Charlene: #JoziMeetup
Karen put together a lot of social media posts on this post here using Storify.
Carly, who drove from the Free State, wrote a post here.
And also on the #ECMeetup which happened on the same day:
Luchae: ECMeetup recap: Of unicorn horns and decadent pancakes.
Eleanor: What's in the bag
If you've written any please let me know and I will add them in!