This week, meet South African mom blogger Hayley, who shares with us how the opportunities to earn from writing online were generated from being found on her blog.
What do you normally get up to on an average day? (Give us a brief description about yourself)
By day I work a full time job as a compliance officer at a financial services firm and by night I blog, write and read. I'm married to Kurt and Mom to 2 little terrorists named Alyssa and Aidan who keep me busier than any of my other gigs!
If I need to get away from it all, I LOVE shopping, mani's and keeping fit!
How do you feel about motherhood – what are your struggles and joys?
Motherhood is so hard but just as rewarding. There are days where I feel so overwhelmed but just one little hug or kiss from those little lips will melt all those troubles away.
At first I thought having one child was a challenge but I really had no idea how hard raising two could be. Some Moms say it's easier, but for me it's still a struggle in a number of aspects, so I just take it one day at a time.
Tell us about your kid(s)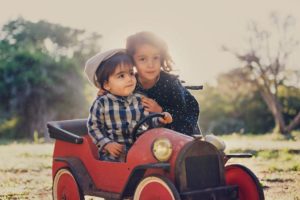 Alyssa is 3-going on-22, she loves dancing, singing and just adores being in nature. She's definitely not a morning person, loves sweets and will basically do anything to get some J
Aidan is 18 months old and is a real Mommy's Boy. He is totally obsessed with cars and just loves watching them drive by our house. He has quite a vocabulary for a 1-year-old and is starting to have real conversations with his big Sister!
4). How did you start blogging?
I love and enjoy reading other blogs and have always kept a journal. Once I became a Mom, I liked the idea of having something more than just a scrap book to keep as memories and decided to start my own blog. I had no idea how everything worked and kind of just felt my way around and learnt as I went along.
Share with us a valuable blogging tip you've learnt. (or more)
I've realized that the more authentic and real the content I put on my blog, the more engagement I get from readers and more the followership grows. I don't mind doing the sponsored stuff (Because yes…. that's nice too) but that's not the main purpose of my blog, so I try to balance this.
If you make money from your blog, give us a breakdown on how you do it. Give us some of your methods on how to get started on this, or any tips or advice.
There are a few ways I generate some income.
I do sponsored posts from time to time and I have ads on my site where leads and clicks generate fees. I also receive a number of "free"/ "sponsored" products to try out which I sometimes get to keep.
Where I probably earn the most income but probably not really linked to the blog directly, is writing content for other online platforms. So, it has nothing to with the blog really, however I have been "found" online via my blog and was thus approached to write for these platforms. This has opened a new door for me and it's something which I absolutely LOVE doing and am so grateful for the opportunities.
If you want to get in touch, my Social Links are as follows:
My blog: http://hayleysjoys.co.za
Facebook Page: https://www.facebook.com/Hayleysjoysblog
Instagram: https://www.instagram.com/hayleymalan/
Twitter: https://twitter.com/Hayleym101
Pinterest: https://za.pinterest.com/hayleym101/
Snapchat: Hayleymalan18
If you found this post interesting please share it with your friends and remember to follow us on Facebook, Twitter, Pinterest and Instagram and join our awesome group called Mommy's Me Time.