There's an interesting new Christmas gift idea that is going around: the idea of giving four gifts in four categories. They are: what they want, what they need, something to wear and something to read. I think it's good to have some kind of limit instead of too much stuff, so I've rounded up some options for the want and wear categories.
WANT:
Netflorist has some really nice personalised gifts.
I could actually get stuck in this section for a long time. They have some nice ones for women, moms, teachers, dads.. it goes on and on. I think this makes a great gift because it's a nice thing to have for the new year – like a journal. Buy one for yourself!
The best is, they deliver, so you can send this gift to a loved one far away.
Prima Toys have a lot on offer this season, and you can read my more detailed post here, and about Ben Ten here, and Power Rangers Ninja Steel here.
Prima sent me a taste of some of their gifts and there are some really cool ones.
The one my son likes the best is the Race and Chase Go Gears burago set. It has cars you pull back so that they can do the "loop de loop". The police car is really awesome because it has lights on it. Check out Nicky playing with it here:
A cute novelty item is this Stretchy Dog: (Fetch Armstrong):
If your little one is a bit younger you might appreciate these blocks from Prima Baby:
Oops is one of Europe's leading quality brands and these sets are quite educational as there is one for telling the time, another for letters and another for numbers.
Guaranteed for hours of fun and all available now at Hamleys (Eastgate, Menlyn, Sandton, Mall of Africa, V&A Waterfront, Greenstone), selected Kids Emporium stores, Me, Mom and Dad (Greenstone), www.takealot.co.za, www.loot.co.za, www.thebabyzone.co.za, www.purplepepperz.com
WEAR:
Netflorist has some really cute baby grows so appropriate for the season: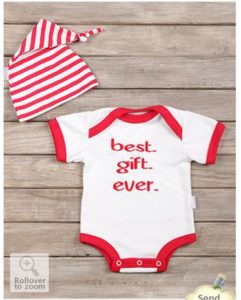 Mr Price has affordable clothing for everyone in your family.
If you're looking for a swimming costume for yourself there's some nice ones in store and online. Flattering apparel for summer too.
Will I be following the trend? Well Nicky will be getting a few toys that he really wanted and a book. So I guess I'm ticking two categories there!
This post contains affiliate links and we were given the items from Prima Toys. .