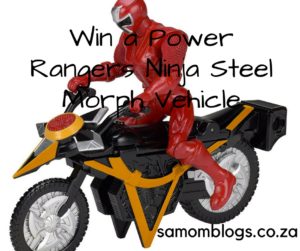 One of the things that really brings me joy is to watch my child at play. He is so inventive, building things with anything he can lay his hands on from Lego to boxes, and making up little stories with his toys. I'm always interested in how he will play and objects he is able to manipulate are certainly fun. Today we are giving away a fun new Power Rangers Ninja Steel Morph Vehicle.
We were sent two Power Rangers Ninja Steel products to try out, the 30cm figure and training gear. The toys are based on the TV series currently being aired on Cartoon Network.
Nicky liked the yellow Power Ranger and rotated all the appendages telling me how it could move.
The training gear was also very interesting. It consisted of a poky thing (reminded me of NIcky's story about Vikings that go in search of a dragon armed with "dragon poking things") and a stick with balls on it. Apparently it's called a Morning Star and Spike.
So apart from whacking the Power Ranger with the balls, Nicky also played on the floor with the toy. I guess the Power Ranger was calling for help: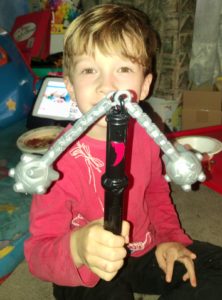 I guess action figures are a good way to discover the difference between heroes and villains and playing out stories that spark imaginative play.
While he was eating supper and watching IPad he also decided to balance the stick and balls in a triangular position. He was pretty pleased with himself that he managed to do this.
He then thought a good place for it to go would be on my cupboard door, stuck with Prestick. I buy Prestick just for Nicky to create and stick things. I have no idea why he put it there in that position. But every now and then he goes past and checks that it is still securely attached.
I will never know all the things that go on in his head but I do know that toys definitely aid
him in imaginative play. The Power Ranger Ninja Steel figure is currently attached to a Barney helium balloon, and surprisingly hasn't lifted off.
Today on the blog we are giving away a Power Rangers Ninja Steel Morph Vehicle, valued at R399.99. These vehicles can transform into Ninja Power Stars and are able to combine with the Ninja Steel Megazord. Rev up the action with all new Power Rangers Mega Morph Vehicles. Each Mega Morph Vehicle is a heroic Ninja Star that can instantly morph into a powerful vehicle for endless adventure. Each Vehicle comes with an articulated 5‑inch Figure.
Pictures below are examples of this toy (and please note that the prize may vary) plus a video.
Would you like to win? Comment below.
Terms and Conditions
This competition will run for a week. The winner will be announced on the Facebook page, and emailed.
This competition is open to SA residents only.
The prize is not transferable.
If you have won on SA Mom Blogs in the past 3 months you will not be eligible to win this competition
Disclosure: We were provided with the toys and this post is sponsored by Prima Toys.