I think we all are very aware of Disney in our everyday lives. It's on everything from our kid's yoghurt to the TV and movies around us. But I think I have probably underestimated how wide their stretch is and everything they are involved in. So it was an interesting afternoon with #DisneyAfrica hearing more about what lies ahead for the brand.
Disney has three channels on DSTV.
Disney Junior is on Channel 309. This is the preschooler channel. Slated to appear here are Puppy Dog Pals, Vampirina Micky and the Roadster Racers, Sofia the First: The Mystic Isles, The Lion Gaurd, PJ Masks, Doc McStuffins: Toy Hospital, Miles from Tomorrow and My Friends Tigger and Pooh.
Disney Channel is on 303. For families, specifically kids 4-14. More girls. Looking forward to Descendants 2 on 6 Oct 2017 (after watching the first Descendants), Tangled (The Series), Hotel Transylvania (The Series), Ravens Home (That's so Raven now features Raven and Chelsea as divorced single moms raising two families in one house), DuckTales (whoo-hoo! are back!), Cookabout (youngsters learn the basics of cookery and travel in Gauteng to see the process that goes into putting food into the shops) , KC Undercover, Miraculous Tales of Ladybug and Cat Noir, Elena of Avalor, Bunk'd, Stuck in the Middle, The Lodge and Bizaardvark.
Disney XD is on 304. More boys 8-14. Coming up on this channel are Spiderman, Mech X4 (about a boy who can work a robot with his mind against monsters), Disney 11, Milo Murphy's Law, Star Wars Rebels, Supa Strikeas and Walk the Prank (comedy plus real hidden camera pranks).
There are some interesting films coming up as well.
Some worth mentioning:
Coco: 24 November 2017. This is a Disney Pixar film about Miguel who is seeking to discover his family history. Despite being banned from music, this is his passion. He takes a journey through the Land of the Dead to find out more. The reason why I'm mentioning this film is that for Frozen film buffs there is a short 20 minute film before it "Olaf's Frozen Adventure." about Olaf and other Frozen characters that you will want to see.
Star Wars The Last Jedi on 15 December 2017. Join your favourite heroes in an epic adventure. I am sure this will be a success for all the Star Wars fans out there.
Black Panther. So did you know that Disney owns Marvel too? ie all your fave cartoon characters. This movie follows on from Captain America: Civil War and is about King T'Challla returning to the African nation of Wakanda where Black Panther is there to assist the prevention of a world war. Worth mentioning here is that there are a few SA actors involved in this movie.
A Wrinkle In Time: 9 March 2018. I read this book as a child and it was really a page turner. It's about time and space travel but more than that: darkness and light. I'm really looking forward to it. Also featuring some really big names such as Reese Witherspoon and Oprah Winfrey.
Mary Poppins Returns: 28 November. Super excited about this! But who could ever replace Julie Andrews? Emily Blunt, apparently!
So…. Disney own Disney Pixar Marvel and Lucas Film. Plus ABC Studios. So Grey's Anatomy. The Fixer. And more.
But they also have a thriving retail industry. At the event there were awards given to South Africans who have done unique things with the brand. Like making a musical toothbrush and a Mickey and the Roadsters braai hood. Can you believe it? Shoprite Checkers won an award too.
At this event there was an upstairs section where we could look at some of their offerings.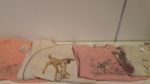 Disney Baby is huge. I think I've chatted to at least two companies promoting it in the past year. Who doesn't like these Bambi characters decorating all things cutsy?
Little girls love those princess dresses…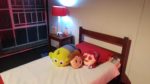 And what is to stop the teen from decorating their bedroom with the brand?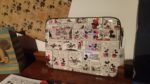 Or the adult from having laptop covers or even Disney shoes?
There are also lots of gaming extensions of the brand.
I liked seeing Karen and Mira there.
Read other blogger's posts about the event here: MomAgain@40 and Tech Girl.
What do you like about Disney?