You might think that is a pretty strange title for a blogger meetup about moving your blog to a business. But I found the common thread between all the speakers on that day. What use is having a business if your roots of self esteem are not in place (Jodene)? And if we can't utilise the strengths and weaknesses of our unique personality (Tall Trees)? And if all our hard work to grow that tree is not seen at all (SEO tips from Imka)?
Surrounding all of us was the tranquil foilage, muted blue decor and serene fountain of our venue, the Placecol Spa. I have to thank manager Heleen for accommodating us so well, and spoiling us with delicious eats. It was so nice to catch up and meet new bloggers with in this environment, where I will certainly be returning to spend that voucher she gave us, because they really do live up to their slogan "Where body and soul find rest".
Jodene Shaer is the author of "The Holistic Entrepreneur: How to succeed by focusing on self-worth, intuition and happiness." She was there to tell us the story of how she turned her blog into a book, but more than that, she was there to share the importance of connecting your heart with your head and to work with authenticity with the message you want to project.
She wasn't always like that of course. And I am busy reading her book about how it all happened. Suffice to say though, that a fire in her home that burnt down her beauty business was a huge wake up call to do what she loved, instead of what was familar.
Jodene started working towards what she is today. She says she is not a blogger or influencer. She sees herself as a writer and speaker. We should all look beyond the blog because in her experience, she hasn't make money from the blog but the blog has provided her with incredible opportunities she otherwise wouldn't have had.
Being authentic to your message means not saying yes to
everything. Find out what it is you want to say and stick to that. Jodene has said no to press drops full of sugar. Because that isn't what she is about. She found that personalising the message was the way for people to buy into it and other bloggers in the room aggreed that it was the personal parenting posts that obtained the best responses.
Jodene used an online publisher for her book. She then publicised it through her own extensive network. You can find out more about her on her site.
Jodene described how, like the roots of a tree, we need to have our self worth in place. This is so that when the winds of our emotions blow us about, we can stand firm.
Of course our next speaker has taken the tree analogy to a whole other level. Tall Trees. Leadership is the art of knowing when to bow, when to stand tall and when to dance with others.
Annatjie van Zyl encouraged us to find our parenting profile so that we can work out what builds us up (fertiliser) and what drains us (frostbite).
I've completed the profile and it turns out that I am a Boxwood tree. I want to do everything right and mistakes drain me. So true.
Perhaps you are a Palm tree? You are full of fun, energy and humour and the mundane stuff drains you.
A Rosebush mom likes control. They plan for every situation. They like conflict and don't have a lot of patience with small kids.
On the other hand you have a Pine Tree who is very calm and patient but rather likes to smother their kids. Their drain is a busy lifestyle and conflict.
What was interesting about the report was that is gave combinations of different personalities for different aspects of parenting. I am a Box Rose for discipline, a Pine Rose for mentoring and Boxwood for nurturing. There are lists dotted within of my fields of greatness, forest fires, frostbite, fertiliser and my forces within. Lots of things to think about.
What's also useful is that kids can work out their profiles too. I think there is a lot to be gained by these personality groupings. Another one I really like and has helped me understand people in my life is the Enneagram, which divides people into eight. I am the 4 – tragic romantic, and my husband is 8 – the boss. It helped me to understand his conflict style and I suspect that he is a a Rosebush in this scenario.
So now that you have your self esteem in place and you've figured out your personality, and you're producing great content on your blog… what now? How are people going to find your tree (read blog) on the internet?
Imka comes to our rescue with some helpful SEO tips.
One of the first things she mentioned, which is super helpful, is to fix your permalinks. No good to have a long url with a date in the middle, which is unhelpful to Google.
I'll tell you exactly how to fix this. Go to Settings. Click on Permalinks. You can click on "post name" which is a better option but the way I do it (which I picked up from an ebook by Tommy McLaughan) is the bottom one which says "Custom Structure" so that we can have the category first and then the post name. So by that one you put in the following: /%category%/%postname%.html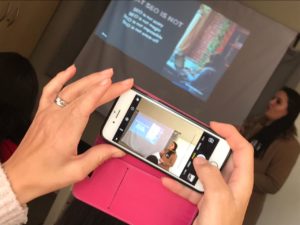 Next she encourages Keyword Research. Target your audience and find out what they are interested in. Use Google keywords. Longer keywords are good here. But they all must be relevant to content.
Now as an aside here I was listening to a webinar last week by Jon Morrow who blogs at Smart Blogger. He was saying the old way of doing things is to just write down whatever you are thinking and they new way is to research what your market wants. He uses a tool called Buzzsumo to figure out what content most people are interested in. He actually goes and looks at competitor's sites and looks at their most shared posts and then tries to write something on the same topic,
The sweet spot is obviously to try and write something that you feel passionately about as well as what people are actually interested in reading.
Where do you put these keywords? In the title, meta description, url, alt text for your images, headings, content and your anchor text. I find the Yoast plugin quite useful to remind me of all these things but Imka is way beyond me as she does not even use it. She also says it's not completely reliable as a post that was "red" on Yoast is doing very well on searches. So there you have it. Don't be tied down by Yoast.
I like what Imka said about content. "Only the most useful, most complete, most astounding, most well researched, most valuable and most emotionally engaging content will make readers come to your blog."
Imka also encourages us to optimise our images. This you can do by using Alt text and making sure they are small so that your site loads quickly.
Links are something you can also use – both internal to refer to something else on your site and external (a good reference in that category). Incoming links from trusted sources are also good.
Find Imka on her site here.
After digesting all that information it was for some physical sustenance with tea and eats and chats with our fellow bloggers. And then one by one they grabbed their goody bag and went.
The goody bag was another super one and I have to highlight a few special ones.
Placecol Spa gave us a voucher, some bath salts and keyring. (Plus, an awesome host!)
Tall Trees gave us a voucher.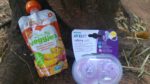 Fountain Medical, who represent Philips Avent and Happy Tot, were unable to make the proceedings but gave us dummies and food pouches. Thank you!
Oh So Heavenly spoilt us with a lovely new "Mom and Cherub" Farm Fresh baby range of bath milk, cream, skin refresher and wash and shampoo. That bath milk is so soothing and has bubbles too!
Hasbro gave us all My LIttle Pony to celebrate their upcoming friendship tour. They will be in Gateway Durban 24 Aug- 7 Sept, V&A Cape Town 19-25 September, Sandton City, Jhb, 2-14 October.
Wellness Warehouse gave us a number of little items to pamper ourselves. There was soap, lip balm mint fresh Himalaya Herbal toothpaste and footcream. There was also a face balm and coco baci and an issue of their magazine.
Siso Toys gave us Disney wipes and a number of different Slime and Gelli substances you can add to water for a lot of fun. (Bloggers who would like to review these in exchange for product please email me heather@samomblogs.co.za)
Femagene gave us some feminine hygiene products.
All Gold gave us a tin of tomoatos.
We used Gumtree's file and paper to take notes.
MatsiMela, our previous sponsor, gave us lovely fizz bath balls.
All in all a good haul and a big thank you to all our sponsors.
Thank you bloggers for attending and we hope to see you at the next one!
Thank you to the bloggers for your pictures too! Especially Funso!