In case you thought that Barbie was all blonde and dumb, this new version will put that myth to shame with a game that tests your memory using the lights on her belt and skirt. Barbie also enters a new dimension in a video game format, using her roller skates to propel herself onto new adventures. We are giving away this doll and a DVD worth R800 on the blog today.
Test your memory with this ultra-cool doll inspired by the anime world just like in the movie. Her colourful racing look hides a fun, interactive game within its anime fashion elements.
How does it work?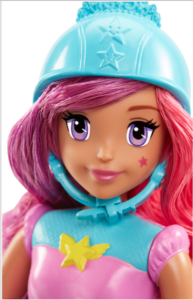 To get started, push the button on her belt and the doll's purple skirt lights up with a pattern using three coloured lights. Your goal is to repeat the pattern using the corresponding colorful buttons on her belt. As more patterns are successfully matched, they become more challenging and five different levels can test different memories to the max.
This Barbie comes with real working roller skates and helmet, all ready to take off! And as you can see, there's not much blonde hair around. We are multicoloured here!
The DVD we are giving away is all about how Barbie is pulled into her favourite video game who must rely on her amazing gaming skills and out of the box thinking to save her team and beat the game.
Here's a trailer of the DVD:
There are also other products in this new range, including Barbie Video Game Hero Barbie doll, Barbie Video Game Hero Ken doll , Barbie Video Game Hero Friend Doll , Barbie hero vehicle play set . Barbie will be all set to have friends and super cool wheels as she rolls around her game in her roller skates.
All you have to do is use the Rafflecopter prompts below! The more things you do, the greater your chance of winning!
Terms and conditions:
You must be resident in South Africa.
The winner will be emailed and announced on our Facebook page in a week's time.