Children love playing in the sand, building, creating and drawing. On the beach you'll find people of all ages digging and moulding the most epic sandcastles and having fun with their families. It's a South African summer tradition to hit the beach and enjoy the sea and sand – but are there any techniques or scientific secrets on how to build a sandcastle? Our family was busy building them this past week in PE and in this post I'll share my observations.
Nicky and the other children at his school spend a lot of time in the sandpit constructing not only sandcastles, but also bridges, tunnels and tracks for "trains". They often get quite upset if their creations are destroyed by a wandering toddler. Having said that, giving your own sandcastle a good whack is fun too. Explosions and destruction, right?
Recently after we had a bit of rain in Joburg the kids had fun making sandcastles. Nicky created one with several towers in a row and a pointy turret on top. He was very proud of this. He likes building things.
He was really looking forward to getting to the beach though. He loves running up and down in the waves and playing in the sand. Fortunately Granny keeps some buckets handy.
Summer is the season to spend time with family and create those happy memories, and building sandcastles together is a special activity one can do together. This is also the message from Momo, from Wimpy, who has a couple of fun summer activity blog posts here. Wimpy is even running a competition where you can win a family holiday. All you have to do is visit their Facebook page and let them know about the summer activities you and your family enjoy.
So let's get back to how to build a sandcastle.
You'll need:
–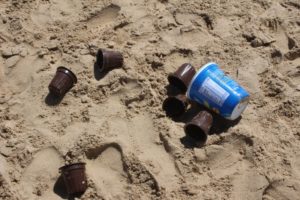 Bucket and spades – you don't need anything fancy. The normal round kind are great for making multiple formations. We even used a yoghurt container and little containers for turrets. You can cut a plastic bottle into the shape of a spade too.
-Sand
-Water
Method:
Find the right spot (at the beach). Or mix the right proportions (at home). According to Momo, we should mix 1 bucket of water with 8 buckets of sand. So, scientifically, that's 0.125 water x sand. This is also the verdict from sedimentologist Matthew Bennet, who also suggests if you're at the beach to choose the place between the high tide point (a line of seaweed and flotsam) and the low tide point (where the waves are close). He also says "the finer the grains the more they hold the water" so I guess some beaches have finer grains than others?
If you're too far back the sand is too dry and won't make a good structure. If you're too close the water it's too sticky and won't remove from the bucket easily. Although it is super fun to play in this area with all the water. Nicky decided to do this too.
You need to be a bit back from the waves but still in the wet area so that you can mould the wet sand.
2. Make a foundation – a nice flat surface to work on.
3. Fill the buckets and compress the sand.
4. Turn the buckets onto the foundation. Make sure it's a pretty quick movement when you pop it over.
There's no end to what you can build further. Some people also use more implements to create doors and windows and moats with water around the castle. You can add decor like shells too. Or even put someone in your castle.
Nicky had a lot of fun building the most epic sandcastle with his teenage cousins. They started with a pointed central building, which they made with their hands, and which also had a tunnel.
They built walls and tunnels all around, interspersed with both sized buckets making circular structures. You can see Nicky did a wall on the right while the twins are busy with the bucket shaped circular structures on the left.
Around the castle they made a moat which even had a bridge.
They then decided to fetch some sea water for the moat, but doing this one yoghurt container at a time up and down in the hot sun… well they didn't get far before they decided to do some other activity like swim, or dig a hole in the sand that was really wet.
Nicky thought this was a comfortable spot to sit and surrounded himself with squelchy sand. Of course it ended with everyone throwing sand around and going back into the water.
But that's what summer beach holidays are really about… not prescribing a certain task to do, but rather letting the kids enjoy the sensory experience of the sand and having fun with the process rather than the outcome.
Most of all it is about spending time with family.
All this building works up an appetite so it's a good idea to have a summer treat too (a day later, but anyway…) We had some milkshakes at the Wimpy. (I got some chips in Nicky first). He decided he wanted bubblegum after seeing his cousin drinking some.
Nicky also got to build castles with my mom.
These beach trips with my mom are extra special as recently the previous times we have been to PE she has been busy nursing my father until he died. So it was nice to spend this time with her with something so simple as time on the beach. In the same way that we build our castles on the beach, she is rebuilding her life now without my father, moving home and creating a new stage in a retirement cottage. She is in the process of decluttering, moving on, and making a new home.
So it was a privilege for us to be there together, cherishing the moments in the sun and sand.
What special activities mean a lot to you and your family?
This post was sponsored by Wimpy.