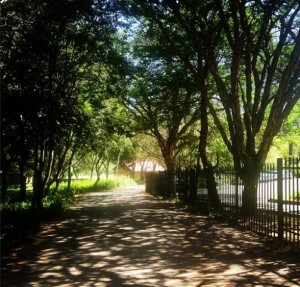 As I drove into the Field and Study Park I was stuck by the silence and enveloped by nature. The huge tall trees surrounding me stilled my soul because I knew they had stood there for many years and would continue to stand there for many to come. This is the setting for a unique Montessori preschool in Sandton run by the very experienced Julia Gorham, a pioneer who set up one of the first Montessori schools in South Africa.
The school building was originally stables situated in an isolated area of the park surrounded by open veld and a single dirt pathway to the building. When she discovered this beautiful and tranquil park many years ago, she knew immediately that this would be an ideal learning environment for young children so she set about creating the school that we know today.
This community asset of the Field and Study Park was part of the original Farm Driefontein. It stretched from Craighall to Bryanston. It was one of the first farms proclaimed in 1857 It was owned by various families prior to the Wilhelmi family who came to South Africa in 1871. Years later they sold off 40 acres to the Arnold family who hand built the present house – which is now a Heritage House, in about 1936.
In 1957 the heirs to the Arnold farm offered the Sandton Town Council first option to buy the 40 acre property as it was such a beautiful piece of open space on the river and ideal for a park. The house, now a Heritage House is a busy Recreation/Study Park with courses for body, mind and soul. Of course there is also the education of young children from the original stables into the current Field and Study Montessori Pre-School. There is also a child friendly restaurant: The River Cafe. I have visited this cafe before with other moms and it has great children's play areas.
The park also owes a big debt of thanks to Rose Johnson, of the Friends of the Field and Study and her tireless efforts to protect, promote and preserve the park.
Julia has been involved in educating children for 24 years. She is involved in Montessori training and is also a qualified Filial Play Therapist. She offers her assistance with teacher training at underprivileged schools throughout Gauteng and provides home schooling workshops for Care Givers. Mom bloggers: you will be interested to know that she has a lot of useful content on Children's Kickstart, which is, as the name implies, a great resource for giving your child a kickstart in life.
So what's new in 2016? The school has been renovated! The children's bathroom has been revamped with a new toilet, basin, re tiling of new floor and wall tiles, plus new hooks for the children's face cloths and mirrors. The front patio and classrooms have been painted with a new colour including the shelves, chairs and tables. In the school's front garden, they have erected swings, gazebos and a trampoline. The children's classrooms are equipped with eco-friendly air conditioners, filtered water dispensers and fridges for their lunchboxes and water bottles. What is also really different about this environment is that there are rabbits hopping around the gardens plus there are serene nature views from the windows while you work.
The school also offers extra murals and holiday programs.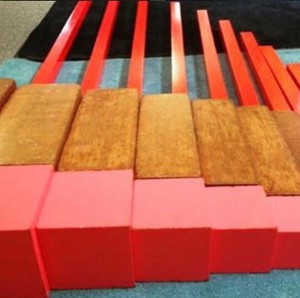 For those of you unfamiliar with the Montessori educational approach, the best way to describe it would be to follow the child. Montessori acknowledges the absorbent mind between the ages of birth to six and decided to make the most of this with a prepared environment. Kids are allowed freedom to choose activity based on a range of materials which are divided into practical life (e.g. pouring water), sensorial (e.g. arranging red rods in order), geometry (love all those three dimensional shapes), culture (history/ geography/ botany/ zoology/ art/ music/ religion/ science – fabulous shapes of leaves, a time line of the earth), language (starting with sandpaper letters they can feel and proceeding to phonetic and non phonetic material) and mathematics (golden beads can really make place value very concrete). This choice faciliates self control and self regulation.
The other beautiful thing about the materials is that they often have a built in "control of error". This means that it is often unnecessary for the teacher to correct the child: the materials themselves will not fit until the activity is completed.
Children are divided into mixed age classrooms with the idea that the older kids can help inspire the younger ones. In much the same way that a younger sibling learns from his older brother, little three year olds can learn from what the six year olds are doing.
They complete their work in what is known as a "work cycle". Allowing kids to get stuck in and work on the material is something amazing to watch because it builds their concentration span. Watching this in little two and three year olds is very special.
As I'm writing this I'm feeling excited about going back to work with this amazing system again. Yes folks, after three years of being a stay at home mom I'm going back to work. I will be joining Julia at Field and Study Montessori teaching the toddler group.
I think what's really amazing about this school is a combination of some really good factors. A beautiful nature environment in the heart of Sandton. An experienced headmistress of some twenty odd years. Practical and concrete Montessori materials that bring education to life. And every time you enter or leave you will see those majestic, timeless trees and be grounded all over again.
Field and Study Montessori has a website Montessori Preschool and you can also follow them on Instagram, Facebook and Pinterest. Interested in your child attending? Contact Julia on gorham@mweb.co.za.