This post review of a potty training seat is written by South African mom blogger Melissa Javan, who blogs at Mel's postbox.
I seriously forgot that my child is one to unpack and dissect everything. And this is what she did when she noticed the big brown box and started opening its contents.
The new the Cam Dudu Anatomical Seat (potty) we got from Prima Baby South Africa was in there. Light to carry and its doggy-face looked right at her.
I called my husband to help Princess unpack the potty out of the box, because I was busy preparing a formula milk bottle.
Potty was out and Princess went immediately to sit on it. I was surprised that she sat on it for longer than five seconds. To get her to sit longer than five seconds on her other potty is a mission.
I think it has to do with the design of the potty – you sit in a position that looks like you're sitting on a see-saw. The potty has a handle in front and the middle part of it, you can play with it.
Anyway, an half an hour later and Princess was still busy with the potty. Husband joked: we have a few minutes to ourselves.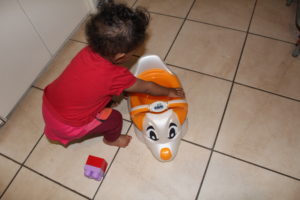 Meanwhile, Princess had in the process made the doggy-head loose, taken it off and also the bowl part in the middle (that holds the pee) was also out. She was sitting on it without the bowl part. Even without the bowl, the potty is a bowl on its own.
In my mind, seeing the potty being taken
apart I thought: did my child just break a brand new potty? I went to observe and saw the head and the ears can easily be removed and be put back on again. **let's out a sign of relief**
Seriously, I thought I was the excited one for this new potty (or should I say toy). I've been dreading the whole potty training business. Call me one of those lazy moms. Or maybe I'm scared of change.
Like when we started the solids, I was happy that Princess started at her school first. A week later I started trying the eating solids-business at home, comfortably.
Fast forward two weeks later since we got the potty, I have to confess: I have not put work into this yet. Husband told me that last week Princess sat on the Cam Dudu Anatomical Seat-potty with her nappy on. She made a boo-boo as he calls it while sitting on Cam Dudu. She then stood up and said "Ka-ka" which is another word for "poo" (or boo-boo).
So at least we know she knows the difference between pee-pee (urine) and poo. We've established that the Cam Dudu is a comfortable spot to sit on. Does the fact that you have your nappy on, count?
Also, the potty is being carried around the house (by Princess) to be played with. She still takes off most of the potty's pieces, which can easily be put on again. I'm seriously surprised that the pieces have not broken yet.
My way forward is that I need to take Princess with me when I use the bathroom. Being a working mom, I should probably start practicing on weekends.
I've been relaxed and haven't started the process, because most mommy friends told me "she will show you when she's ready." Having this in my mind, I just thought: why stress about potty training then?
​Did I mention that my mother said that I can wait till Winter is over to start with potty training? So many excuses for me to not start this potty training business…
This post was sponsored by Prima Baby South Africa. The views are of Melissa Javan, content producer, blogger and owner of Mels Postbox site where she writes inspirational stories as well as highlighting journalistic and entrepreneur skills. . You can also find her on Twitter.
If you found this post interesting please share it with your friends and remember to follow us on Facebook, Twitter, Pinterest and Instagram and join our awesome group called Mommy's Me Time.