Lately I have really been feeling like a frumpy mommy. I have been a stay at home mom for two years now and there is no motivation to dress up and look good. When you are looking after a baby or running after a toddler, I suppose comfort is the most important thing, and since you don't have to go out and look professional, style falls by the way side.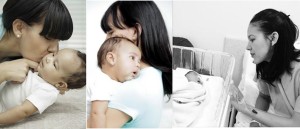 So I was really excited to connect with Nastassja Peterson, a South African mom blogger who blogs at Mrs Rogero . She has a lot of really cool fashion pics on instagram too here. Her son is 17 months old and we enjoyed chatting about our toddler challenges. She also sent me these cool baby pictures of when her son was two months and a newborn. Her blog is a lifestyle blog, with an emphasis on fashion, decor and her family.
How cool does she look in these fashion pics?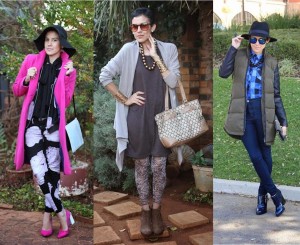 In any case she is lucky to have fashion in the family. Her aunt, Kathy, is the designer for Pure, a clothing company based in Cape Town. Attached to all items of their clothing is the label "Pure: Psalm 18:26" which says: "To the pure you show yourself pure, but to the devious you show yourself shrewd." They base their operations on the idea of making the women look beautiful on the outside so that God can do the work on the inside, says Kathy.
Kathy also draws her inspiration from her family. Her grandmother was a dressmaker and her mother also used to sew a lot of embroidery. She also developed an appreciation for sewing when she had to spend time in hospital due to a hip problem. Pure acknowledges that as women we do have the odd lumps and bumps that we want to cover up and look beautiful. All their clothing has a wrap style to it – very flattering angles and drapes. This is why Nastassja wore Pure throughout her pregnancy because it covers and flatters a woman's curves.
I was fortunate enough to meet some other bloggers who were there and we had fun trying on various Pure items of clothing.
Mi'chal from Sweet Serendipity by M wore a fabulous orange wrap, That colour looks very striking on her.  She also tried on a slightly see through black striped cover.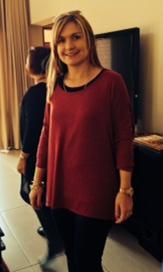 Danielle, who was writing for Simply Siyaam, wore this red top that gave her a colour pop. She also liked the striped jersey.
I also met another SA Mom blogger, Melonie, from A Day in the Life of Princess Mel, who liked the same top that I did. Here you can see her with designer Kathy, who is adjusting the folds of the garment in all the right places!

Of course I had to try on clothes too. This top (R240) has such a striking colour which makes me look terrific, and I love the folds of the fabric that cover my tummy!
I also liked this bat winged garment (R200) with its very flattering angles. My favourite colour is purple and this lilac hue was perfect for me. As a cherry on the top i walked away with a lovely beaded necklace. And yes, it was purple.
So thanks Nastassja, for getting me out of my fashion frump. I think this is what is what is so amazing about meeting other bloggers – we are all there to support each other and open each other up to new experiences. And now I look fabulous and feel comfortable too. 🙂
Pure is located in Cape Town: 3 Langverwagt Centre Langerverwagt Road, Kuilsriver.  They have pop ups in Johannesburg once a month – next one is is at the end of August (29/30th); to be confirmed. Kathy's number is 0736906247. You can also email Nastassja on mrsrogero at gmail dot com.
This is not a sponsored post and the views contained within are my own.
Would you like to be featured? See guest posting for ideas or contact me.