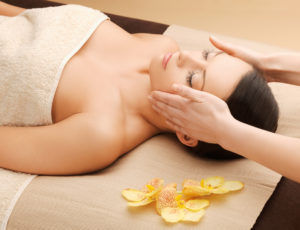 As moms, we tend to put ourselves last and not make time to spoil ourselves. But in those moments when we do indulge, we have extra appreciation for taking care of ourselves in this way. SA Mom blogs is giving away a special treat to a reader of this blog, and also telling you about my experience with this kind of skincare experience.
My treatment took place at Imbalie Beauty, which is an umbrella franchisor of three main salon brands namely Placecol Skin Care Clinic, Dream Nails Beauty, and Perfect 10 Nail & Body Studio. I had the trainer Lisa do her thing on me and it was just awesome. She started by asking me questions and what was the immediate problem. I talked about the skin damage at my neck area and she suggested a peel.
We started off with a lovely cleanse. It felt a bit like shaving cream. It was gently washed off with some soft sponges and warm water.
The peel did tickle a bit. But I knew it was working.
While the creams did their magic Lisa gave me the most amazing head massage. I especially liked the one behind the ears by the neck, it worked those muscles strained from sitting here at the computer! She even did a bit of a shoulder massage too.
More cleansing and then moisturing.
But then came this most amazing part. Lisa used her fingers to work some pressure points on my face. As she pushed certain points I felt so relaxed I actually dozed off at some points. This feeling of total and utter relaxation sent me into bliss and I found it quite difficult to actually get up afterwards and get back to reality.
Your face is what you present to the world every day, I would highly recommend you look after it.
I have also been using the cleanser, toner and moisturiser for the past while from Skinderm, one of the set of products this group uses.
The cleanser is really milky and soft and I use it in the bath. I notice that it does have tea tree oil in it. Tea tree oil is good for all sorts of infections too. The toner has all sorts of extracts like majus flower leaf, stem and flower extract and litchi chinesis pericarp extract (good antioxidant). The moisturiser feels so good and softening on my face.
Checking out their website on the range, these active ingredients are delivered to deeper layers of the skin.
The products have rice protein, which is a good defense and gives fuel and anti-fatigue to the skin. Nasturtium Extract helps the skin absorb oxygen. The Litchi Extract is a free radical scavenger. Red snow algae regenerates skin. An advanced moisture complex gives a good long term moisturisation.
But if nails are more your thing, or anything else that Perfect 10 offers, then there is nothing stopping you from entering this competition and winning that voucher.
We all need our Mommy's Me Time, and time at the salon is time well spent and invested in yourself. So that you can go back to the kid yelling "Mommy!" all day long with renewed energy.
All you have to do is show Perfect 10 Studios some social media love! The more you follow, the more entries you'll gain. Follow the Rafflecopter prompts. (If you've never entered on Rafflecopter before, Sharon has a good post on how to do it).
T&C's
This competition will run for a week. The winner will be announced on the Facebook page, and emailed.
This competition is open to SA residents only.
The prize is not transferable
If you have won on SA Mom Blogs in the past 3 months you will not be eligible to win this competition.

If you found this post interesting please share it with your friends and remember to follow us on Facebook, Twitter, Pinterest and Instagram and join our awesome group called Mommy's Me Time.