This week's post is from South African mom blogger Helene, who blogs at Prettybelle.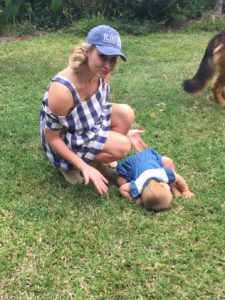 Motherhood is a little bit like Survivor. No, scratch that, Motherhood = Survival! It's just like those poor people on some remote island – you have to outwit, outlast and outplay!
Adapt or DIE!
The only difference they lose weight and you… well let's just blame it on baby!
When you have a baby everything changes. And if anyone, anyone tells you differently? They are… wait for it … lying to your face! (I told you motherhood is like Survivor)!
Your world shifts – you're constantly thinking about someone else's needs; is she happy? Did she eat enough? Why isn't she sleeping? Your body changes! And in the process you need to somehow still be a sexy, loving wife?
But the biggest change for me (except of course my clown feet) was What to Wear?
It may sound superficial, but by looking good, I feel great and in return I'm a better Mama.
But let's face it, time is precious and pretty much non-existing!
I learned a few tips and tricks along the way that I want to share with all you exhausted mamas out there.
Because somewhere hidden under a big pile of diapers countless wet wipes, and breastfeeding sessions there is still… a stylish YOU.
Survival Tip 1
Comfort is a style!
I can't believe I'm typing this, but again motherhood changes everything. Yes, I strongly believe that comfort is NOT a style and if you ever see me walking in (comfortable) crocs, just know that I have completely lost my mind.
But it's just not practical to wear the shortest skirt (flashing innocent strangers while strapping baby in the car seat).
My top 5 mama-is-comfy-and-have-style items:
Skinny jeans (research shows that you're way thinner than you think you are, so get into those skinnies right now)!
Sneakers (you can run in them, and that's pretty much what Mamas do all day)!
T-shirts (they're affordable and can be swooshed up in a jiffy)
Jumpsuits (you don't have to plan an outfit, just jump in)!
Cap or Beanie (for those bad hair days)!
Survival Tip 2
Do not dress like a Mum!
Mamas are ruling the world! The hottest accessory = a bump or cute kiddo walking next to an oh-so-stylish Mama beats a Forever New handbag any day.
Constant worrying and a lack of sleep (did I mention guilt)? May cause wrinkles and premature grey hair BUT NEWSFLASH, you're not that old!
No time to put on make-up or even shower? Don't worry!
Just do this:
Make an appointment and make sure you attend. Baby will survive! Nice hair = instant facelift. Even if you don't wash or style it, it will be a pretty colour, for at least 6 weeks!
If you don't have the budget to micro blade (the new eyebrow technique that literally transform your eyebrows from the girl-next-door to Cara Delevingne), just tint it. It's quick, affordable AND you can do it at any salon. I get my eyebrow-fix at Sorbet. Thanks Janet! It lasts up to 6 weeks.
Sweep on that red lippie! Red lipstick, just like sunglasses, can change the world.
S = Style it!
Pair your favourite summer dress with tights – you don't have to shave and it's almost like wearing pants, meaning you won't flash the car guards.
If it's too hot for tights invest in hot pants. It's like a mini ski-pant. Now you can be all flirty, without showing your bum.
Look out for jumpsuits – this is a mum's staple! The only thing that takes time is going to the bathroom…
If you are a supermodel, stop reading. If not, scroll down. The rumour about that flabby part you get after a caesarean, well it's true and no amount of sit-ups can fix that, but a high-wasted skinny jean = goodbye flab! No sit-ups required. Take that Britney!
Think outside the box! Match your T-shirt with a chiffon skirt, just for the hell of it! You're going to look good and feel great and inspire a few other Mamas along the way.
Prints = mom's best friend! Whether it's plaid or floral this is a no-brainer. The busier the print – the less obvious the Purity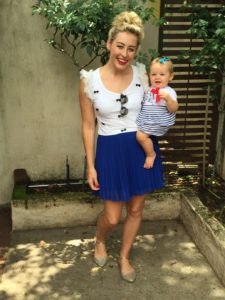 AND…
The best accessory = baby!
Survival Tip 4
Don't let your hair down!
Do this:
Milkmaid-braid
Look out for a vlog on how-to do my version of the milkmaid braid – coming up on Prettybelle – The Blog real soon. This is easy and the best part it's out of reach for tiny, sticky, grabbing hands.
Top-knot
Every 2nd day is a top-knot day and that is fine! "the higher the hair the closer you are to God." If you have an extra second, add a ribbon, for instant style alert.
Cover-up
When all else fails, just put on a beanie or a cap.
Motherhood is a life-changing experience, but with these tips you can Adapt, Outwit, Outplay and Outlast – in style!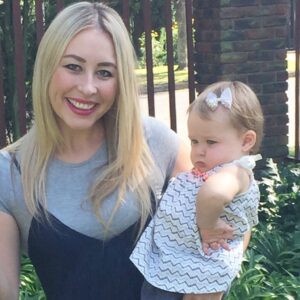 Stay stylish
XOXO
Helene
About Helene:
I'm Just a Mama, married to the love of her life and completely besotted with her babygirl. I started Prettybelle with one hand, while breastfeeding. I believe life is all about the PrEtTy little moments in between. We must just embrace it – with style!
Helene is a qualified journalist with a degree in B.A Journalism. She has a post graduate certificate in education (PGCE) and 9 years experience as kindergarten teacher. Currently Kids-editor at BELLA-magazine. She has a Diploma in Personal Styling at the acclaimed Wardrobe Academy, just because she's a self confessed shopaholic.