I'll be the first to admit that I am a very unfit person. I run around after toddlers at my work and do some very basic housework but that's pretty much it. To reverse this sad state of affairs let me tell you all about a fitness app I am using called Aaptiv you can use from your phone, which is ideal for moms on the go.
Back in the day, before I had Nicky, I had a gym membership. I enjoyed doing step classes as well as abs classes and walking on the treadmill. I used to go there before work and also on a Saturday.
When Nicky came along this no longer worked for me. I needed something I could do from home so that I didn't have to worry about finding a babysitter. So I bought a few DVDs of step and yoga, but that didn't seem to last either.
One thing I do enjoy when it comes to exercise, especially in this heat, is swimming. I've been doing a few lengths while Nicky jumps in and out of the pool and squirts water at me. So it's something we can do together.
Of course swimming is a bit limited to the warmer months so I was interested when contacted by Aaptiv to do a month test drive of their app. I think what appeals to me most about this is that you can do it from home and there are a large variety of programs, so
that you're not just stuck playing the same DVD over and over.
The programs on my current list are:
-Outdoor running
-Treadmil
-Elliptical
-Indoor cycling
-Rowing
-Stairclimber
-Stretching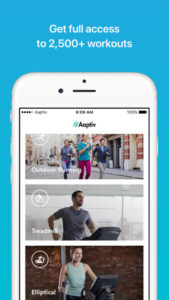 -Workouts for weight loss
-Ab workouts
-Programs
-Yoga
-Walking
-Meditation
-5 K. 10 K. half marathon & full marathon training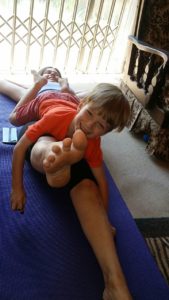 It's like having your own personal trainer. You could even take this app to the gym, using their equipment, but having an encouraging voice in your ear. They also have different levels (beginner, intermediate and advanced, and I notice using the beginner they keep encouraging me to go on to the next level).
The other thing I really liked about this app was the music. Very current and vibey. It got me going. I even heard a Game of Thrones soundtrack on one of the cycling workouts. I also did a lower body strength stretch with Jenn that had Alanis Morisette's "Thank You", which I might do again just for the music!
We have some gym equipment around the house gathering dust. So I decided to make use of the stationery bike and the elliptical.
I was so encouraged doing the indoor cycling with Ben. I couldn't work everything on the machine properly as he was saying, but I did feel very motivated. This was a great way to start the day.
I also had fun on the Elliptical. Except the part where Nicky climbed on, of course. I took a selfie.
For some reason I also found listening to a guy worked better for me. I also enjoyed an Abs workout with Ray. I liked the "superman" move with my arms and legs stretched out. I really enjoyed the way these guys got me moving and enthusiastic.
Yoga with Amanda didn't work so well. I didn't really follow everything she was saying and I didn't know all the positions. Yes, I did know downward dog and child pose, but there was too much I didn't know.
So here's my conclusions on Aaptiv and who it will work for:
PROS – Who it will work for:
If you want a personal trainer in your ear there's no limits here where you can take your phone. You can work out at home or at the gym. Or outdoors as you run.
If you have gym equipment at home this will work really well.
If you're a runner and you want to train for a certain distance, Aaptiv will help you get there.
If you're a mom without a babysitter, this will work. Yes, there is a pause button. You can stop and help the kid rebuild the bridge that fell down in the middle of your workout. Of course you also get those times when your kid wants to drive his cars all over you, but hey, it's extra resistance training. (Nicky likes the downward dog!)
If you're knowledgeable about yoga poses and how your machines work – even better.
CONS – Where this app falls short:
If you're a beginner in yoga, a DVD or an actual class is going to work better so that you can watch and see what the poses actually are.
If you have no clue how to work your machine – you might be better off with a real human to show you how it works. Although I really did enjoy peddling away freely with a great motivator in my ear. And I did work up a sweat.
In conclusion I think this app is a great option for moms, stuck without a babysitter and who really need to get a workout. I also know there are a lot of runners out there who would appreciate an encouraging person talking them along.  This app is for you.
For more information, see their website here.
They have over 2500 workouts with 30 being added every week, so you are spoilt for choice. Cost is $14.99 a month.
Disclosure: I was provided with a month of this service.
Acknowledgements to my family for their assistance with the photography. Brett Step (my husband) took the ones of me on the mat and Nicky took the one of me on the bike. The screenshot is from Aaptiv.