The My Little Pony movie releases on 6 October. It is a super cute annimated story the kids will love (my 5 year old son enjoys the ponies too) but it's also open to a deeper meaning about the values of friendship that adults will appreciate. Take your kids to see the movie and enjoy it yourself too. SA Mom Blogs is giving away two sets of four tickets each to the new My LIttle Pony movie.
So what is friendship all about? Here are some values I picked up from the movie.
Fun and laughter. The ponies are sheer fun with lots of games and appreciation of the joy to be found in life. You only have to watch Pinkie Pie getting really excited ("Best Day Ever!") and Rainbow Dash doing super sonic rainbows around a pirate boat to see how full of fun they are. We need to have more fun in our lives. And not take things so seriously.
2. Love your enemies. I'm not just talking about the bible verse Matt 5:44. I think the mark of a
mature person is to be able to think about why a person you can't stand releases certain emotions within you, and what it says about you. But perhaps one should also consider what that person has been through to make them that way, and love them anyway.
In this case, the enemy is Tempest Shadow, sent by the Storm King, who overthrows the city of Cantelot and drive out the six ponies.
Tempest has a broken horn. There's a sad story of her past involved here, but the point is she is willing to do the Storm King's bidding to get it back. She has faced rejection in her past and doesn't easily trust people, but in the end, it is the true spirit of friendship that saves her.
3. Use the resources you have and be content with who you are. There's a scene at the beginning of the movie where Twilight Sparkle asks her fellow princesses to use their magic to make the sun and the moon to be placed at the right angle for the perfect lighting for the festival she is organising. They say no. She must use what she has. How often do we expect things to line up just right? But the real task ahead is to channel what we have?
Tempest Shadow also must learn that her broken horn has powers too. Something we consider broken can actually be our biggest strength.
4.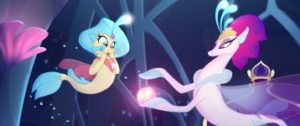 Be open. The entire city of Seaquestria is underwater. The ponies have changed their appearance into fish. Sure,it's fun to watch them swim around, but you have to think: how far have they gone to hide from the Storm King? It was a survival tactic, but Twilight Sparkle knows this route is not for her. She has to deal with things face to face.
5. Forgive mistakes. Twilight isn't without her wrong moves and a mistake that gets her and her friends kicked out of Seaquestria. But the key here is that her pony buddies can (eventually) look past it and come to her rescue.
6.
Empowering others. The ponies convince the pirates to stop working for the Storm King and come into their own. They realise this amongst a whole lot of song and dance and aforementioned supersonic rainbow.
True friendship is about lifting others up and supporting your friends. And the ponies do that really well.
Each pony has a different "element of harmony". Pinkie Pie represents laughter, Fluttershy represents kindness, Applejack represents honesty, Rainbow Dash represents loyalty, Rarity represents generosity and Twilight Sparkle represents the magic of friendship.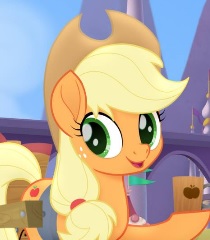 Nicky kept asking me which pony I liked best. I liked Twilight Sparkle (so did he) for the way she worked hard to save her friends. But I also really liked Applejack for being really down to earth and that rich earthy Southern accent. Honesty is a good leveler and it is often appreciated. I also liked the practical way she was distributing drinks for the festival.
This is a star studded movies with lots of singing too. We have a pony that looks just like Sia, is Sia, and sings like Sia. Played by Sia but called Songbird Serenade.
Here's the trailer.
And here are some other cool things about My Little Pony:
My LIttle Pony is also having a friendship tour. They will be in Sandton City, Jhb, 2-14 October.
They also have a range of toys to celebrate the movie.
The My Little Pony movie inspired range will be available from Toys R Us, ToyZone, Toy Kingdom, Hamleys and other major retailers. You can also shop online for My little Pony products at Takealot.com
You can also make your own pony here: (mine is Lilac Blossom):
But the most coolest thing?
You can watch the movie for yourself and see the ponies in action. And take along your family.
Win!
SA Mom Blogs is giving away two sets of four tickets each to the movie.
All you have to do is follow the Rafflecopter prompts.
Terms and Conditions
This competition will run for a week. The winner will be announced on the Facebook page, and emailed.
This competition is open to SA residents only.
The prize is not transferable.
If you have won on SA Mom Blogs in the past 3 months you will not be eligible to win this competition
If you found this post interesting please share it with your friends and remember to follow us on Facebook, Twitter, Pinterest and Instagram and join our awesome group called Mommy's Me Time.