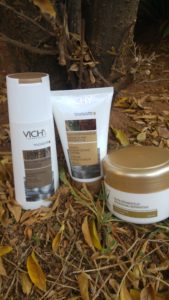 We're in the middle of winter and our hair tends to take a beating over this cold season. However there is hope for dry hair. A lovely rich mask. I tested out the Vichy Nourishing and Reparative range and would like to share my results with you.
In May I had my hair coloured to look good for the #JoziMeetup. Colouring hair definitely gives a lift to any woman, but in winter weather it isn't the best for the condition of your hair. David, the stylist at Isobel's salon, ran his hands through my hair before he had even coloured it.
"You need a hair mask," was his definitive conclusion.
So after those words were uttered I was on the lookout for a suitable solution. It arrived in the form of Vichy Nourishing and Reparative Shampoo, Conditioner and Mask.
These Vichy products are part of the Dercos range. This set meets your fundamental needs by treating and reinforcing the bulb, the scalp and the fibers. With care available for every hair concern, Dercos gives your locks a new lease of life. Here are the different kinds available:
-Anti Dandruff Shampoo
-Ultra Soothing Shampoo
-Oil control treatment Shampoo
-Nourishing Reparative Range
I tested out the last one on the list.
This is my hair before. Dry, brittle, colour treated and in need of some moisture.
I started with the shampoo. Then I rinsed that out and turned off the water. (Save water, you all!) I put the mask in. I found that I obtained better results the longer I left it in. So in other words, if I rinsed it out immediately – no effect. One minute (which is what the box said) = huge difference. So I did about two minutes. I put the water back on (and while I fine tuned the temperature that gave me some extra time) and rinsed it off.
Now it probably wasn't necessary to put the conditioner on as well, but I wanted to go the whole hog so I did that too.
I did all three for three washes and it had this effect:
Since then I've cut down on the mask but I will still be doing that at least once a week. It makes such a difference and I am getting compliments about my hair .
The reparative range is for those with dry, damaged and brittle hair that has been exposed to multiple aggressions such as brushing, washing, drying and repeated chemical treatments.
-Nourishing and Reparative Cream Shampoo: RRSP: R199
-Nourishing and Reparative Conditioner: RRSP: R225
-Nourishing and Reparative Rich Mask: RRSP: R320
VIchy also has a skin care range for those suffering from dry skin in this season. It's called "Aqualia Thermal" and will boost hydration. The range is dermatologically tested and includes serums, blams and moisturuisers for dehydrated skin. Enriched with Vichy Thermal Spa Water, the Aqualia Thermal products sooth and moisturise your skin for up to 48 hours.
Does your hair need help? Does it have a dandruff problem? Oily? Need soothing? Or just some reparative help like me?
Vichy is giving away a personalised hair hamper! All you have to do is follow them on Instagram and receive additional entries for other social media follows, using the Rafflecopter mechanism.
Check out more info on Vichy on their website.
Terms and Conditions
This competition will run for a week. The winner will be announced on the Facebook page, and emailed.
This competition is open to SA residents only.
The prize is not transferable.
If you have won on SA Mom Blogs in the past 3 months you will not be eligible to win this competition.