The Blue Man Group is an event you have to experience to fully benefit from what they are all about. Mere words are just inadequate to do this stage production justice, but I will attempt to give you a glimpse into their world. We are also giving away two double tickets to a Johannesburg show on Thursday 30 March. UPDATE: We now have another double ticket to giveaway in Cape Town on Wednesday 22 March.
Being a Blue Man is an art in itself. Ex Blue Man Isaac Eddy spoke about the audition process and what they look for in this kind of performer.
It's evolved slightly throughout the years because it's tough to find Blue Men. About half of us are professional musicians who learn the character, and the other half are professional actors who learn the music. The thing that's hard is that the character is not the kind of character that a trained actor can immediately understand, and that's why half of the Blue Men we have aren't even trained actors. It's a 'clown' character for all intents and purposes, which is a term that's kind of misused now. For the character to be believable it has to tap into an honesty and a sense of self that a lot of times, actors are trained to get rid of. There are some people who can access that honesty in the character, and there are other people who are basically trained in all sorts of acting styles that can't really access it.
There is something very quaint and curious about the Blue Man and the way he approaches the world. He is child like and funny, as well as being inventive and musical. He doesn't speak: his facial expressions and physical movement is his way of communicating. I see on their website that they do special performances for autistic people: and their style and approach is something that appeals to those kinds of people too.
I think one of the really interesting things about the Blue Men is how they involve and include the audience in their performance. This happens with everything from the audience warm up messages to give greetings to certain people to a special interruption for late arrivals. Then of course there are two volunteers who actually take part in the show.
For the first volunteer, who was a smiling lady up for the challenge, they sat at a table. She had to help them open their Twinkie packets. Very funny and it reminded me of Mr Bean. The second volunteer was a man who completely immersed himself in the Blue experience, but you'll have to watch the show to see how that turned out!
Something else fascinating about the Blue Man Group is their take on technology. There is one scene where there are images of texting people and the words and letters spew upwards into a spiral of colour. The colours swirl and come together and then find themselves on the outfits of the performers.
No matter how high-tech things get, there's still something human there. We'll always need other, always need to collaborate. People still need to come together and look each other in the eye. Through the Blue Man's connection with the audience, we hope to encourage this human-to-human interaction, while helping people reconnect with their own sense of wonder and discovery, with their own sense of what is possible in their lives. Phil Standton, Co-Founder.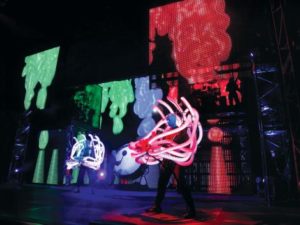 The drumming is also incredible. It adds to the force of the performance but the Blue Men have a unique take on the shapes of their drums. They use pipes. They make the point that pipes always flow away from the house. When they go backwards you get: interaction! (And that's what the Blue Men are about!) The other shape they use is to represent a nerve that makes you see in your eye.
There is a scene wh
ere they move the pipes in the beat to the music which is quite unique. But also drumming on all the pipes produced some very rhythmic and musical tunes. They even played a few South African ones much to the delight of the audience.
Light, colour and paint are also a huge part of the show which culminates in a huge party atmosphere with streamers and large colourful balls all over the audience. My husband managed to hit the balls quite a few times but I didn't quite reach! I came home with a pink streamer still attached to my handbag, a playful reminder of the evening.
Afterwards the Blue Men are there in the lobby for you to greet and take selfies with. A playful end to a lesson in what the Blue Man is asking of us.
The Blue Man is reflecting the audience itself and the Blue Man is summoned by the audience itself. A primordial, psychological journey of the audience itself. Put more simply, you could think of it as, the color blue. It's cased off that Yves Klein blue. That bright, bright cobalt that he created himself, and that he covered [a series of objects and paintings] with and nothing else. So the concept is that we emerged from a painting like that. Like our primordial soup is from the art world, and we are summoned by the audience to connect them and free them from this urban isolation. To have this single moment of connection. Isaac Eddy.
You might also remember them from America's Got Talent:
TOUR INFORMATION
JOHANNESBURG
Venue: Teatro at Montecasino
Dates: From Tuesday 7th February 2017 until Saturday 18th March 2017. Then from Thursday 30th March 2017 until Sunday 2nd April 2017.
Off Peak Shows: Tuesday Evening, Wednesday Evening, Thursday Evening and Sunday Evening
Peak Shows: Friday Evening, Saturday Matinee, Saturday Evening and Sunday Matinee
Ticket Prices: Off Peak: R370 – R595.
Peak: R455 – R680
Bookings: From Big Concert and Computicket
Cape Town
Venue: Grand Arena, GrandWest
Dates: From Tuesday 21st March 2017
Off Peak Shows: Tuesday Evening, Wednesday Evening, Thursday Evening and Sunday Evening
Peak Shows: Friday Evening, Saturday Matinee, Saturday Evening and Sunday Matinee
Ticket Prices: Off Peak: R340 – R570
Peak: R425 – R655
Bookings: From Big Concerts and Computicket
Follow the Blue Men on Instagram and Twitter.
***
Would you like to see the show? SA Mom blogs is giving away two double tickets to the show at the Teatro in Johannesburg on Thursday, 30 March 2017. To enter, leave a comment.
UPDATE: We now also have another double ticket to giveaway in Cape Town for Wednesday 22 March. PLEASE SPECIFY IN YOUR COMMENT: CAPE TOWN.
Terms and Conditions
You must be able to attend the show in Johannesburg on Thursday 30 March. (Or Wed 22 March in CT)
The competition will run for a week and the winner will be emailed and announced on our Facebook page.