This weekend in Gauteng the main attraction is NickFest! So much to do and the best part is that it really caters for all ages. We also have the other on going events we have mentioned before, such as the transformers and some theatre productions.
NickFest Ticket Pro Dome
I'm very excited about going to NickFest again; last time we went it was two years ago when Nicky turned three, so it was kind of a birthday celebration as well. He had so much fun. Read the post here. I am looking forward to him being older and being more adventurous on all the climbing apparatus as well.
This time there is so much on offer, including a pram park, mom and baby room and changing area plus 55 child minders on site.
To put you in the picture here are some stats:
5,000 Visitors per day
3 X Performers per session
7 X Balloon Artists
4 X Stilt Walkers
1 X Magician
7 X Face Painters
2 x Soft Play Ball Ponds
30 x Pedal Go-Karts
30 x Character Cut-Outs
55 x Child Minders
10,000 litres of Slime including a 625 m2 SlimeFest Slime Zone
1,280 giant construction blocks from Everblock
5000 m2 of carpeting
NickFest 2017 promises an amazing weekend of fun for all the family as Minnie joins performers Shekhinah, Nasty C, and co-hosts Jason, Nicholas and Donovan Goliath to welcome kids and families to the TicketPro Dome. An amazing combination of music and family oriented entertainment, NickFest is packed with live performances, interactive zones, kid-friendly activities, and themed areas where Nickelodeon characters and programmes will be brought to life.
Don't miss the exciting character shows and appearances by Nickelodeon superstars SpongeBob SquarePants, Dora the Explorer, the Teenage Mutant Ninja Turtles, plus loveable pups Chase and Marshall from Paw Patrol. Or why not play on the Magic Kinder app in the KinderJoy interactive area, and hang out with the KinderJoy mascot Kinderino.
Get your tickets for NickFest 2017 at www.ticketpros.co.za and select Edgars, CNA and Postnet outlets, priced at R290 per head or R270 per person for a family of 4-6 people. Groups of 10 or more people enjoy a discounted price of R250 per head. Entrance is free for children under one. Entrance to the Slime Area costs R150 per person (tickets sold separately; kids under 12 must be accompanied by an adult).
For more information on NickFest 2017 please go to www.nickelodeon.com, join them on Twitter @NickAfrica and on Instagram@Nickelodeon_Africa, or like them on Facebook at www.Facebook.com/NickelodeonAfrica. To join the conversation about NickFest 2017,please use the hashtag #NickFest.
2. Transformers Animatronics
We mentioned this last week and it is still going strong.
Young and old can see Optimus Prime, Megatron, Bumblebee and the Rescue Bots as well as an impressive arsenal of weapons used by the Transformers characters. This travelling exhibition features 12 animated Transformers, sculptures scaled between and 2m and 11m made from car parts, and other statues varying in size. Children are able to build their own Transformers using waste materials in the activation zone.
Autobots and Decepticons will also feature prominently, accompanied by the latest Dino Bots and famous Rescue Bots, the famed pre-school series that has expanded the Transformers fan base. Kids (and those young at heart) will get to enjoy a dedicated kids'activation zone, where they can build their own Transformers using waste materials.
Exhibition dates and venues
Johannesburg
Emperors Palace The Big Red Shed
11 March 2017 – 28 May 2017
Visiting Hours: 10am to 7pm
Centurion
Centurion Mall
10 June 2017 – 15 October 2017
Cape Town
GrandWest Casino and Entertainment World
10 November 2017 – 21 January 2018
Tickets are on sale for all shows at www.webtickets.co.za and search "Transformers Animatronics".
Ticket prices
Adults R155
Children (4-17): R100
Pensioners: R100
Students: R100
Family of 4 (2 adults and 2 children): R440
Children under 5: free
Box Office Tickets available at on site box offices
Schools: Special school packages are available in all cities Contact: Linda@exporsa.co.za
To find out more about the exhibition, venues, tickets and for FAQs, visit https://www.transformersafrica.com/ and www.exporsa.co.za
3. Freckleface Strawberry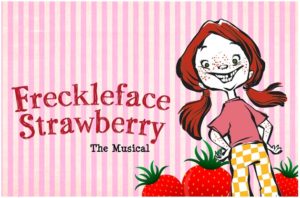 This children's theatrical production is based on the book by actress Julianne Moore. It tells the story of a red-haired, freckle-faced girl who learns that beauty lies not in the mirror but in the human heart. Times vary. Bookings essential.
National Children's Theatre, 3 Junction Ave, Parktown
R110 for adults and R90 for children
4. Winnie the Pooh
You'll appreciate Pooh's sunny nature and his love of honey. Pooh and his friends go on expeditions, muse about honey and birthdays, tell jokes and sing songs. There are two shows daily: 9am and 11am during the school term and 10:30am and 11:30am on weekends, public holidays and school holidays. Bookings essential.
Peoples Theatre, cnr Loveday and Hoofd St, Joburg Theatre Complex, Braamfontein
If you have any events you want to share email heather@samomblogs.co.za. If you would like your event in the top slot you can reserve it for R250.