With school holidays on the go you might want to go for a few of these shows and events this weekend.
Disney on Ice
Disney on Ice will be at the following three venues in SA:
-The TicketPro Dome, Johannesburg from 30 June till 9 July.
-Durban ICC 13-16 July
-Grande Arena, Grand West, Cape Town from 19-23 July.
Disney's favourite characters shine in this show – everyone from Donald Duck, Micky Mouse and Goofy, to the Lion King and all the Disney Princesses and the Frozen characters too. The ice skating is brilliant and entertaining and it is a lovely show to take the kids and any visitors to.
Weekdays – R100, R200, R275, R375 per person inclusive
Saturdays and Sundays – R175, R275, R375, R475 per person inclusive.
IMPORTANT: Babes in arms and children under two years sitting on parents lap MUST have a purchased ticket. Babes in arms ticket @ R50.00. Children two years and older must have a purchased SEATED ticket.
BOOKINGS
Computicket by calling 0861 915 8000, visit www.computicket.com or visit your nearest Computicket Service centre.
For more info and times see their website.
2. Disney's Cinderella Kids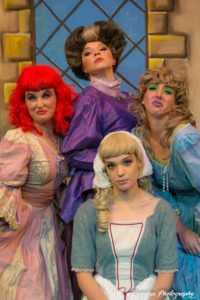 We mentioned this one two weeks ago so check out that post for more details on the actors playing in this production. You can also read Karen's review here .
Cinderella Kids will run at the People's Theatre from 5 June – 30 July. There are two shows daily at 09:00 and 11:00 during school times, and 10:30 and 14:30 on Saturdays and public holidays, certain government school holidays and certain Sundays. Tickets are R130 per person and bookings can be made through WebTickets, or by calling Peoples Theatre on 011 403 1563/2340 or emailing them at info@peoplestheatre.co.za
3. Puss in Boots
From the producer of Shrek The Musical and twelve sold-out award winning pantomimes, KickstArt Theatre brings you Puss in Boots, a swashbuckling spectacular for the whole family. Live on The Lyric stage at Gold Reef City from Friday, 30 June until Sunday, 23 July 2017, this rendition of Puss in Boots is a variation of the original tale.
Set on a mystical, magical Caribbean island, Puss in Boots is a laugh-a-minute and features great audience participation, breath-taking sets, gorgeous costumes and toe-tapping tunes sure to enthral both young and old. Starring everybody's favourite famous feline in footwear, along with a host of fabulous new characters, Puss in Boots offers the best in family entertainment available in Joburg this winter holiday.
Written and directed by Steven Stead and designed by Greg King, the story of Puss in Boots is brought to life by a stellar cast – Earl Gregory as the booted hero; Ilse Klink as the good fairy Calypso Honeybunch; Michael Richard playing the evil shape-shifting goblin wizard, Grimbsy Withergood; Sean John Louw as the hapless miller's son, Tom Marzipan; Darren King as Mother Merry Marzipan; and Zak Hendrikz, Londiwe Dhlomo-Dhlamini, Yamikani Mahaka-Phiri and Caitlin Kilburn as some of Puss' friends. This extravagant stage production is choreographed by Janine Bennewith, with lighting by theatre veteran Denis Hutchinson and under the musical direction of Rowan Bakker.
"Following the resounding success of Shrek The Musical, we are excited to bring this legendary pantomime to Gold Reef City," says Noeleen Bruton, Director of Marketing for Tsogo Sun. "It's an enchanting winter pantomime to be enjoyed these holidays by the entire family, not just the kids."
Bruton continues, "We are also delighted upon hearing the recent news of KickstArt Theatre's ten well deserved Naledi nominations for Shrek The Musical. Staging another all-star cast of highly experienced panto performers lead by Steven Stead and his production team was an easy decision for us."
Puss in Boots performances will run at The Lyric during the following times: Wed at 14h30; Thu & Fri at 19h30; Sat at 14h30 & 19h30; Sun at 11h00 & 16h00.
Ticket prices range between R150-R260, and are available through goldreefcity.co.za, Gold Reef City Box Office and Computicket.
Do you have any events you want to share? Leave them in the comments.
If you have any events you want to share email heather@samomblogs.co.za.