Lots happening this weekend. Some schools are on holiday and Easter is nearly here. This week we bring you three cities. In Gauteng you can go to a market/ show, ride a bike, make a chocolate bunny or see the Transformers. In Cape Town we have activities happening at the V&A Waterfront and a Transformers activation also happening there. In Durban the Slime Fest is in full swing.
GAUTENG:
Belly Blesssings Maternity and Baby Market
This is happening in Pretoria. 8 April 2017 from 8:30am-15:00pm. This market is being held to offer moms beautiful, handmade goods. Come support small businesses who are passionate about pregnancy and the blessing thereof. Also featuring Myang, who we have posted about on this blog before (this giveaway and this post about sensory processing disorder and shoes).
2. Off The Beant 'N Track Mountain Bike Family Fun Day.
Off the Beat 'n Track is a spectacular new event which combines music, family and sport to create a great day for families to enjoy the amazing outdoors of the South African landscape, while being entertained by celebrated musicians.
Rides will occur in a safe and secure environment from; 2km (for toddlers), 5km, 15km and 50km (for experienced mountain bikers) through the heart of one of Gauteng's best kept secrets in Irene – situated almost halfway between Pretoria and Johannesburg.
Date: Saturday 8 April, 7:00 am
Venue: The Big Red Barn, Irene
Race Entry Fee:
50km (12yrs+ ONLY) – R227
15km (9yrs+ ONLY) – R170
5km – Adult – R114,
5km – Kids (6-9yrs ONLY) – R91
2km (4-5yrs ONLY) – R91
those who want to join but Not cycle:
Adult – R68
Kids (2–12 years) R40
For more info and bookings go to Jacarandafm.com.
3. Easter with Lindt
Children six years and older will be able to mould their own Lindt Gold Bunny and create and decorate their own Lindt chocolate garden at the chocolate studio, Shop 38, Design Quarter Shopping Centre.
Classes are at 10am, 1pm, and 3pm on 8 April, 12-15 April and cost R195. For more info visit their website.
4. The Walkerville Agricultural Show
This lifestyle expo is fun for the whole family. There will be entertainment, crafts, over 100 stalls, equestrian events, a food court and beer garden plus a play area and entertainment for kids. Entrance is R40 per car and the show is open from 9am till late on 8 and 9 April.
See their website for further details.
5. Transformers Animatronics
Still running, and I really want to try and see them this weekend.
It is a travelling exhibition which features 12 animated Transformers, sculptures made from car parts and other statues. Children are able to build their own Transformers using waste materials in the activation zone.
Adults are R155, children 5-17 are R100 and children under four go free. The family package of R440 is for two adults an two children. It runs until 28 May from 10am -7pm at Emperor's Palace. Visit transformersafrica.com for details.
Also: next weekend the activation currently visiting Cape Town (see below) will be at Eastgate so stay tuned for those details.
CAPE TOWN:
V & A Waterfront activities and entertainment.
V&A WATERFRONT: EASTER ACTIVITIES & ENTERTAINMENT SCHEDULE
Date
Time
Activity / Entertainment
Venue
Monday, 3 April to Sunday, 9 April
12h00 to 12h30

13h00 to 13h30

14h00 to 14h30

Kids Theatre: The Mysterious Two Oceans Treasure
V&A Amphitheatre
Tuesday, 4 April to Sunday, 23 July
10h00 to 19h00
Incredible Illusions Exhibition

(last admission at 18h00)

The Watershed
Tuesday, 11 to Wednesday,12 April

Saturday, 22 April

11h00 to 12h00
Cradle of Creativity: Jungle Theatre, Butterfly Dreams

Marimba Jam

Richard Antrobus – Being Norm

V&A Amphitheatre
Tuesday, 11 April to Sunday, 16 April
09h00 to 19h00
The LEGO Play Experience
Centre Court, Victoria Wharf Shopping Centre
Kids Theatre: The Mysterious Two Oceans Treasure
The V&A Waterfront's school holidays begin with the new Kids Theatre programme at the Amphitheatre, which will show performances of the V&A Waterfront's first ever children's play, The Mysterious Two Oceans Treasure, three times a day from Monday, 3 April to Monday , 10 April.
Set entirely in the picturesque V&A Waterfront, The Mysterious Two Oceans Treasure will follow Amy, a brave, adventure-seeking girl, who sets out to find an unknown treasure hidden somewhere in the Waterfront. Along the way she encountering many strange characters along the way, including an odd tour guide, talking seagulls, a gambling cave troll, prankster clownfish, and a loveable shark, making for a very interesting treasure hunt.
Incredible Illusions: Jaw-dropping 3D illusions
Incredible Illusions, the largest collection of 3D illusions created by master artist Kurt Wenner, comes to the V&A Waterfront this autumn from Tuesday, 4 April to Sunday, 23 July, to enthral both young and old alike. Comprising a jaw-dropping Grand Gallery of 360° 3D illustrations supported by a collection of humorous and adventurous images, this will be the exhibition's first stopover on the African continent.
Incredible Illusions is the antithesis of the traditional exhibition experience: with no hallowed halls, soft chamber music, and certainly no photography bans, the travelling exhibition instead encourages interactivity and even the use of cellphones and personal interaction, to make each visit a customised experience. Visitors can share their visit with the world on social media and let their illusionary experience live a little longer.
Fun from beginning to end, the Incredible Illusions exhibition includes an "art jamming" zone where children and adults alike can learn the basics of 3D artwork to express themselves creatively. An educational zone tells the brief story of 'Pavement Art' and how the mathematical field of geometry plays a pivotal role in compiling a 3D design.
Tickets are available for pre-purchasing at www.webtickets.co.za or www.incredibleillusions.co.za
Cradle of Creativity: Jungle Theatre, Butterfly Dreams
Hot on the heels of The Mysterious Two Oceans Treasure is the Cradle of Creativity's Jungle Theatre, Butterfly Dreams, a series of preview performances at the V&A Amphitheatre these Easter holidays, from Tuesday, 11 to Wednesday 12 March, returning to the stage again on Saturday, 22 April.
Being held ahead of the 19th ASSITEJ World Congress and International Theatre Festival for Children and Young People, set to be held at the V&A Waterfront later this year, Jungle Theatre, Butterfly Dreams will give young spectators a taste of the some of the most exciting international and local theatre for young audiences that will be on show at the ASSITEJ World Congress. Performances will be held between 11am and 5pm and are free to attend.
The LEGO Play Experience
Little ones will have the chance to become a LEGO Master Builder at the V&A Waterfront these holidays, with the LEGO Play Experience in the Centre Court of the Victoria Wharf Shopping Centre from Tuesday, 11 to Sunday, 16 April.
With exciting prizes up for grabs to the most creative, determined and innovative LEGO Builders, children can let their imaginations run wild with one of the largest LEGO collections they've likely ever seen! Free to attend, the LEGO Play Experience will be open at the Centre Court from 9am to 7pm daily.
2. Transformers Roadblock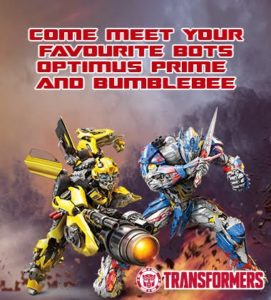 Transformers roadblock takes place on:
7th, 8th and 9th April at the V&A Waterfront, H&M court from 10:00
13th, 15th, 16th and 17th April at the Main Mall Court next to Edgars, Eastgate Shopping Centre from 10:00 am
And will also be featuring Optimus Prime in vehicle mode, a Transformers play area, an area to watch the latest Transformers Robots in Disguise animated TV series and stand a chance to win Transformers prizes at the Transformers Spin to Win wheel!
Optimus Prime and Bumblebee can't wait to meet you!
DURBAN:
Slime Fest
Now it is Durban's turn to enjoy all that Nickelodeon has to offer in the form of lots of slime and entertainment! You can read my latest post on NickFest 2017 in Joburg here, but I think the Durban version is going to have a different spin on events.
The Kiffness, Twins on Decks, Emtee, Timo ODV and K.O join previously announced artists Cassper Nyovest and Mafikizolo for a spectacular family-friendly jamboree of music, Nickelodeon TV characters, and lots and lots of slime – as uShaka Marine World is transformed into a icky, sticky, squelchy green and orange paradise for all the family to enjoy.
Older kids will delight in a host of games and day-long activities: head for the interactive Slime Zone for an epic Slime Blaster Battle: take a relaxing Slime Shower, slither around on the Zorb Ball Slime Pool; or get to grips with your arch-enemy during a bout of Slime Sumo. For the younger kids, there'll be singalongs from their favourite Nickelodeon characters including SpongeBob SquarePants, Dora & Friends, Chase & Marshall from Paw Patrol, and those green amphibious heroes, the Teenage Mutant Ninja Turtles. A dedicated Pre School Zone for very young children will be hosted in the Kids' Corner.
For more info visit their website here.
For other Durban events, particularly markets, go to Family Outings.
If you have any events you want to share email heather@samomblogs.co.za. If you would like your event in the top slot you can reserve it for R250.