A long weekend stretches ahead… what are your plans? If you're looking for ideas, you've come to the right place. There's lots to do in Gauteng, from Transformers, to the Gruffalo, to lots of Easter fun events. In Cape Town we have lego and 3 D illusions. In PE there are a number events centred around the Splash festival. I have also linked up to a number of Easter events in Durban on the Family Outings blog.
Gauteng:
Transformer Weekend alert!
If you are a Transformer fan, you have a treat in store this weekend. There are two events going on. One is the Transformers Animatronics at Emperor's Palace and an activation at Eastgate. So if you want to have a Transformers day, go to Emperor's Palace in the morning for two hours and then swing by Eastgate on the way back to check out more Transformers.
a) Transformers Animatronics
I've had this on our what's on list for weeks now, but I finally got to visit this past Sunday. It was a really nice morning out for Nicky and I wrote about it all in this post here.
The exhibition features 12 animated Transformers (that's Autobots, Decepticons, Rescue Bots and Dino Bots inclusive) There's also this cool play area afterwards where the kids can build with various lego sizes and create their own transformer.
Adults pay R155, children 5-17 are R100 and children under four are free. The family package is R440 for two adults and two children. It runs until 28 May from 10am till 7pm at the Red Shed at Emperor's Palace. Drive all the way in right to the end past the casino and go park in the parking garage next to the Red Shed. For more info see their website.
b) Transformers Roadblock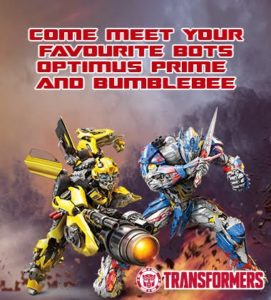 This event is brought to you by Hasbro toys. You can meet your fave Transformers Optimus Prime and Bumble Bee.
The activation will also be featuring Optimus Prime in vehicle mode, a Transformers play area, an area to watch the latest Transformers Robots in Disguise animated TV series and stand a chance to win Transformers prizes at the Transformers Spin to Win wheel! I'll also be checking it out so watch our Twitter for pics and news! And this one is free.
13 – 17 April, at the Main Mall Court next to Edgars, Eastgate Shopping Centre from 10:00 am.
2. The Graffalo Live on Stage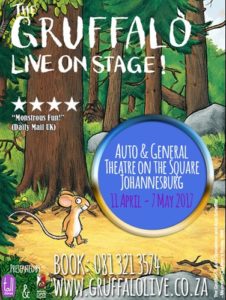 We went to watch this on Tuesday and Nicky had a ball. He was giggling a lot. His favourite part was when the narrator kept hiding the nut away from the mouse who was trying to find it with a "nut map!" Very funny. There is a lot of physical theatre here, very expressive, lots of movement and dance, which is ideal for children. There is audience participation too!
I have to commend the actors on their sterling performance and their ability to change into the different characters. Three actors work the entire play, with one being the animals, one being the mouse, and one being the narrator and the Gruffalo.
As you'll know, this book
is a classic written by Julia Donaldson and Axel Scheffler. It follows a wily mouse who invents a character called the Gruffalo to chase away the enemies of a fox, snake and owl. These creatures are very creatively reproduced on stage with comedic flair. The only part Nicky didn't like was the singing. Oh well. The book takes on a whole new meaning now and he has been wanting to read it every night since we saw this production.
The production runs until 7 May at various times at the Auto and General Theatre on the Square at Sandton Square. Tickets are R85 for adults and R75 for children under 16. Visit their website for more information.
3. Easter Fun
a) Easter Workshop
From 15-16 April at the Rosebank mall, 10am-5pm there will be free children's workshops with a photo with the Easter Bunny between 1pm and 3pm
b) SOS Easter Family Event
At this family you can join the hunt for the Easter Bunny and his Easter goodies. The theme is Alice in Wonderland so dress up in fun hats and outfits. There will be lots of entertainment, food and beverages. It begins at 3pm on 15 April at The Dam at De Vos farm in Midrand. Bookings at quicket.co.za.
c) Easter night hunt
Also on 15 April, children between 2 and 12 can take part in a night time Easter egg hunt. Gates open at 6pm and entrance is R45 per adult, R15 for scholars and R10 for the hunt. Walter Sisulu Botanical Gardens. Contact Samantha 0861001278.
d) Kiddies Easter events
Pot and face painting as well as a tractor ride and an Easter egg hunt with the Easter Bunny will be happening at Garden World in Muldersddrift at 10am, 16-17 April. Entrance is R50 which includes the pot, paint, seedlings, face painting and the hunt. For more information & to book, contact them on 011 956 3003 or 011 957 2545 and also see their website.
e) Silverstar Casino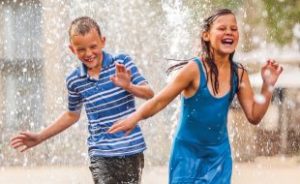 Silverstar Casino are running the Easter Playground everyday from 10am to 5pm from the 1st April to the 17th April. What's more, it's totally free!
So pack a change of clothes for the kids and head out for a day of fun, while you relax at any one of the many restaurants in the Outdoor Arena. They have childminders to help the kids on all the rides.
I've taken this directly from Sharon's post and you can read about all the fun her kids had there.
Cape Town:
Musical Showcase Easter Weekend at the V&A Waterfront:
Easter Weekend: 14 to 17 April
Friday, 14 April
12h00 to 14h00
Food Truck Fridays
Silo District
18h00 to 1900
Musical showcase: Manouche
V&A Amphitheatre
Saturday, 15 April
18h00 to 1900
Musical showcase: Southern Wild
V&A Amphitheatre
Sunday, 16 April
18h00 to 1900
Musical showcase: Hot Water Duo
V&A Amphitheatre
17h30 to 20h00
Sunset Tango
Pierhead Deck
Monday, 17 April
18h00 to 1900
Musical showcase: The Nomadic Orchestra
V&A Amphitheatre
Easter festivities abound at the V&A Waterfront this year, with a line-up of impressive musical performances at the V&A Amphitheatre, to keep visitors' feet tapping and spirits soaring during the long weekend.
Held every day from 6 to 7pm during the long weekend, V&A Waterfront visitors can look forward to free performances by some of South Africa's most revered local talent, including Manouche, Southern Wild, The Nomadic Orchestra, and Hot Water.
A group of four talented Capetonian musicians, Manouche is known for their modern take on traditional Gypsy jazz, blending this sound together with a little tango, waltz, folk, R&B, hip hop and electro swing, which they have performed at well-known local music festivals such as Rocking the Daisies and Up the Creek. They will perform on Friday, 14 April.
Following Manouche the next day, Saturday 15 April, is local rock band Southern Wild, who are taking time out from recording their debut EP to share a little Easter cheer.
Hot Water takes the stage at the V&A Amphitheatre on Easter Sunday, 16 April, will bring their 'South African folk rock' to the V&A Amphitheatre. Known for their lively stage presence, Hot Water's utterly danceable rhythms will help you shake off the feast from earlier in the day.
The Easter weekend performances close with a show from The Nomadic Orchestra on Monday, 17 April, who will end the weekend on an energetic note with their unique take on South Eastern European music. Citing Macedonian, Romanian, Serbian, gypsy and circus music as an influence, Nomadic Orchestra is known for its fantastical sound, and only performs original songs, written by the band itself.
As mentioned last week, the kid's fun continues at this location.
Tuesday, 4 April to Sunday, 23 July
10h00 to 19h00
Incredible Illusions Exhibition

(last admission at 18h00)

The Watershed
Tuesday, 11 April to Sunday, 16 April
09h00 to 19h00
The LEGO Play Experience
Centre Court, Victoria Wharf Shopping Centre
Incredible Illusions: Jaw-dropping 3D illusions
Incredible Illusions, the largest collection of 3D illusions created by master artist Kurt Wenner, comes to the V&A Waterfront this autumn from Tuesday, 4 April to Sunday, 23 July, to enthral both young and old alike. Comprising a jaw-dropping Grand Gallery of 360° 3D illustrations supported by a collection of humorous and adventurous images, this will be the exhibition's first stopover on the African continent.
Incredible Illusions is the antithesis of the traditional exhibition experience: with no hallowed halls, soft chamber music, and certainly no photography bans, the travelling exhibition instead encourages interactivity and even the use of cellphones and personal interaction, to make each visit a customised experience. Visitors can share their visit with the world on social media and let their illusionary experience live a little longer.
Fun from beginning to end, the Incredible Illusions exhibition includes an "art jamming" zone where children and adults alike can learn the basics of 3D artwork to express themselves creatively. An educational zone tells the brief story of 'Pavement Art' and how the mathematical field of geometry plays a pivotal role in compiling a 3D design.
Tickets are available for pre-purchasing at www.webtickets.co.za or www.incredibleillusions.co.za
The LEGO Play Experience
Little ones will have the chance to become a LEGO Master Builder at the V&A Waterfront these holidays, with the LEGO Play Experience in the Centre Court of the Victoria Wharf Shopping Centre from Tuesday, 11 to Sunday, 16 April.
With exciting prizes up for grabs to the most creative, determined and innovative LEGO Builders, children can let their imaginations run wild with one of the largest LEGO collections they've likely ever seen! Free to attend, the LEGO Play Experience will be open at the Centre Court from 9am to 7pm daily.
Here is their online events calendar.
Any more CT events? Leave them in the comments. Also if you are a Cape Town blogger who gets a lot of press releases on these kinds of events / goes to them and would like to write about them, I'd be keen to link up!
Port Elizabeth:
My home town of PE will be having the Splash Festival this weekend. On the agenda is:
Steph the Hypnotist: 15 April 15:00 – 15:45 on the main stage, and 16 April 14:00 till 14:45
Kid's Entertainment on the Coca Cola Stage: 15 April: 11:00 – 11:45 and 14:00 – 14:45
Fireworks display: 15 April 8pm, Hobie Beach.
Easter Egg hunt, 16 April at 11:00 till 11:45
Belino the Clown, 16 April at 13:00 till 13:45
I've only highlighted the children's entertainment, there is a lot more on the go like the sporting events, music and stalls. So go ahead and check out the website for more details.
Durban:
The Family Outings Blog has a few highlights. Go and check them out!

Mega Easter Hunt @ Ushaka
Easter Eggsplorer Egg Hunt @ Botanic Gardens
Hop Hop Hooray @ Watercress Mall
The Hillcrest Corner Easter Egg Hunt
Happy Easter everyone! May you have a very blessed weekend.
If you have any events you want to share email heather@samomblogs.co.za. If you would like your event in the top slot you can reserve it for R250.