Looking for something to do this long weekend in Gauteng? We have quite a few shows on the go to watch (frogs, Gruffalos, Winnie the Pooh and more) plus our Transformers Animatronics still doing their thing as well. (Want to win tickets to Transformers? go here.)
The Frog Prince
One fateful day, when Prince Pierre refuses to kiss Wendalina the Wicked Witch, she curses him and turns him into a frog. The only way out? To kiss a real princess.
This show runs on 28 April and 2 May at 10am at the National Children's Theatre. Tickets are R70.
The address is Wynnstay Theatre at National Children's Theatre Grounds, 3 Junction Ave, Parktown Johannesburg.
You can book bookings@nctt.org.za or 0114841584. Their website is here.
2. The Gruffalo Live
We've been mentioning this production for the past two weeks, but it really is an entertaining adaptation of the famous book. My four year old laughed and loved the mouse looking for the nut. Laura's five year old thought it was hilarious too. Lots of physical theatre as three actors work the play.
I've just checked the times on their site.
27 April: 11am
28 April: 11am and 3pm
29 April: 11am and 3pm
30 April: 3pm
They're not open on the 1st and then on the 2nd it's 11 and 3 and then you'll have to check for the rest of the days until the 7 May.
The venue is Auto and General Theatre on the Square at Sandton Square. Tickets are R85 for adults and R75 for children under 16.
3. Transformers Animatronics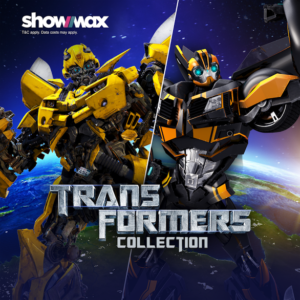 This is another one that's been going strong for weeks and will keep going until the 28 May.
We have a competition running at the moment where you can win tickets here. Read all about how much we enjoyed it.
The exhibition features 12 animated Transformers (that's Autobots, Decepticons, Rescue Bots and Dino Bots inclusive) There's also this cool play area afterwards where the kids can build with various lego sizes and create their own transformer.
Adults pay R155, children 5-17 are R100 and children under four are free. The family package is R440 for two adults and two children. It runs until 28 May from 10am till 7pm at the Red Shed at Emperor's Palace. Drive all the way in right to the end past the casino and go park in the parking garage next to the Red Shed. For more info see their website.
4. Winnie the Pooh
You'll appreciate Pooh's sunny nature and his love of honey. Pooh and his friends go on expeditions, muse about honey and birthdays, tell jokes and sing songs. There are two shows daily: 9am and 11am during the school term and 10:30am and 11:30am on weekends, public holidays and school holidays. Bookings essential.
Peoples Theatre, cnr Loveday and Hoofd St, Joburg Theatre Complex, Braamfontein
5. Kinderspiel Theatre:
Friday, Freedom day 27th of April at 10am 'Khanyisa tells Gogo's stories', physical performance and shadow theatre, acting and interaction with the children, 3-99
Saturday, 28th of April at 10am 'Granny Susan incredible Part II' written and performed by Avril Cummins. physical Theatre, come and meet the Granny with super hero powers! And bring grandchildren and your own granny along! Ages 3-99
39a Greenhill Rd, Emmarentia, Tel: 011 646 0870
Kinderspiel@telkomsa.net
Tickets R60 per person
If you have any events you want to share email heather@samomblogs.co.za. If you would like your event in the top slot you can reserve it for R250.