Deep within the womb of a pregnant woman, a little heart beats. A little baby is taking in everything that their mother eats. To protect herself and grow her baby, the pregnant lady takes a prenatal vitamin to ensure that the baby gets every vitamin and mineral it needs to build a healthy body, and to care for her body too. We've already looked at an overview of Chela Preg, as well as a more detailed look at what's inside their supplements. Today we look at three South African mom bloggers who tested out these pills. What did they think? And was there any reaction in their bodies? Let's take a look.
I thought I'd start off with quoting Catherine, who blogs at Boots in the Big City, and you can read her full post on Chela Preg here.
I've always been a fairly healthy person and always try to eat a relatively healthy, balanced diet. Since falling pregnant though, I've become a lot more aware of what I'm putting in my body and making sure that my little bean is getting enough vital nutrients to help them grow and develop. I'm still all about moderation and wouldn't be giving up my chocolate or rusks anytime soon, but when it comes to meals, I give more thought to the
ingredients on my plate. The fact that everything I eat goes straight to my baby quite simply blows my mind! Despite all of this, pregnancy is the most nutritionally demanding time in a women's life and it is difficult to ensure that you are getting the required amounts of iron, omega 3 and folic acid that are so crucial for your baby's development. Being a vegetarian makes it even more of a challenge for me to get all the nutrients from the foods I'm eating and so including a good prenatal vitamin is a vital part of my daily routine.
I think she really sums up the why of prenatal vitamins, how important it is to put the right stuff in your body while you are pregnant.
She also took some stunning pictures of the beautiful bottles and vitamins.
Belinda, from Tassles and Tigers, took the box along to her gynaecologist for a professional opinion. Read her full post here. The thing that she was impressed with was the way the tablet split the iron and calcium between a morning and evening pill.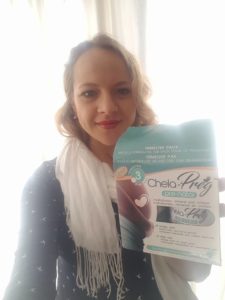 Although it may seem like a schlep to remember taking your prenatal vitamins in the morning and the evening, and two of them at that, there's a very good reason for this and it's not that they couldn't fit all the vitamins and minerals into one tablet.
During pregnancy, your baby needs both calcium and iron. Calcium of course for healthy teeth, bone, muscle and heart development and iron for brain development. Most prenatal vitamins contain both of these. This is great, but not many people know that calcium actually interferes with the absorption of iron. Which is not great at all as iron deficiencies have been linked to anaemia during pregnancy and even autism in babies (not my claim – just passing on speculative information that may or may not be accurate here).
To solve this issue, Chela-Preg splits the calcium and iron into morning and evening tablets. This also allows them to include the Omega 3 in the evening tablet, where it is less likely to cause or worsen pregnancy nausea.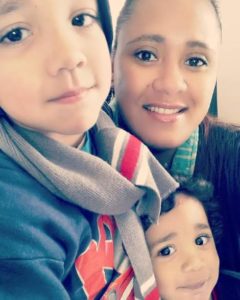 Kim, who blogs at Muller Kids, (read her post here) had this to say.
I love the packaging of the supplements, and that there is a morning and evening dose. It's also quite reasonably priced and I think it's great value for money.
Lastly, Sophie, who blogs at Mumming and Modeling, shares with us in her post here how she felt better and how it is more cost effective:
I just liked the idea of the tablets being formulated specifically (I'm a nerd like that, sometimes) and I honestly didn't know if I'd feel any different after changing them over. And, of course, we'll probably (hopefully?) never know if any one brand of vitamin does any harm, or has any benefits, more than the other. However – I can say I've felt pretty good since using it (who knows if that's a placebo effect?) AND it's cheaper than the leading brands – and I mean, MUCH cheaper – the leading brand of prenatal supplements costs R208 per 30-day pack. Chela Preg Trimester 123 costs R600 for the entire 9 months or so of pregnancy. It's a no-brainer, for cost effectiveness if nothing else.
So what was the physical effect on the SA mom bloggers?
Take morning supplements with your food and other tips
Kim, who had not been taking any prenatal supplement up until now, shared this:
I found that I had to take the morning dosage after I'd eaten something. The one time I didn't, I was nauseated for most of that day. The evening dosage has a nice softer coating, making it easier to swallow.
Catherine agrees about taking your morning tablet after food:
My morning vitamins often make me feel quite queasy so I'd recommend you take it with food or after your breakfast and definitely not on an empty stomach! I do like these evening capsules as they are much smaller and coated which makes them a lot easier to swallow.
Sophie, who doesn't like taking tablets, has this to suggest:
There are 4 tablets to take a day in trimester 3. This is, admittedly, a slight struggle for me – I had to have the copper loop inserted at 12 weeks pregnant, as I couldn't handle taking the mini-pill at the same time every day – so these were a bit of a nightmare to get used to! I found placing them next to the glass cupboard helped, so that I'd see them getting my morning juice, and in the evenings getting my dinner drink. So far so good!
2. No constipation and reflux
Says Catherine:
As with all supplements, there can be side effects and a well-known one for prenatal vitamins is constipation (this is often from the increased iron) but I luckily haven't suffered from this at all despite having to take additional iron tablets.
Belinda agrees:
I did, however, have one instant observation, which was the complete absence of pregnancy constipation. (Let's not beat around the bush and talk about keeping it regular etc.) I can only assume this is due to the specifically low-constipating and low-nauseating chelated iron, Ferrochel (the trademark ingredient that lends the supplement its name).
Sophie says:
I am now 2 weeks into trimester 3 of Chela Preg. So far, I'm liking it. Now, I'm no scientist, so I can't claim that slightly less reflux is down to the different medication, or if it's just a moving baby. If you believe in coincidence, then maybe it's just that… or maybe not.
3. Energy levels are better
Kim says:
I haven't been using the Chela-Preg™ trimester pack for a month yet but so far so good. Baby is growing well and I haven't felt this great in a while…
I didn't experience any negative side effects and only really enjoyed a slight increase in my energy levels and the knowledge that my baby is getting the vitamins and minerals it needs during this specific stage of pregnancy.
Catherine says:
Another benefit from taking a good prenatal vitamin is that your energy levels should increase because your body is getting all the nutrients it needs – and yes, I know pregnancy in general is rather tiring but can you imagine if you not getting enough of what your body needs??
Sophie says:
I can say I've felt pretty good since using it.
4. Less "pregnancy brain"
Belinda had another benefit for us.
Finally, and this could be purely because I have gotten used to it or stopped trying altogether, but I do seem to have better use of my brain of late. That's a reduction in pregnancy brain, for anyone who doesn't know.
So there you have it, folks. Our bloggers have tested out Chela Preg and found it beneficial not only to their baby but also to themselves.
These packs are available at DisChem, Clicks and leading pharmacies. Their recommended sales price is R211,72 (for Trimester 1), R230,68 (for Trimester 2) and 251,22 (for Trimester 3).
This post was sponsored by Chela Preg.