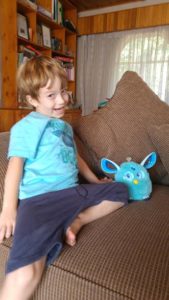 We first met Furby towards the end of October last year when we were invited to see him at Toy Kingdom at Sandton on a Friday morning. I was on a mid term break and it seemed a good idea at the time to have a little outing before we did our grocery shopping. Little did I know that blue furry toy would worm its way into Nicky's heart and stay there quite firmly.
Nicky had a lot of fun playing with the toy and was quite sad to leave him behind. I think he thought the promotional box we received contained the toy and was a bit upset that there was no blue furry creature inside.
From then on we never heard the end of it.
When we asked him what he wanted for Christmas we were very firmly told "Furby". Now Furbs does not come cheap, and swinging R2000 seemed a bit much, so we left it for a while before we decided. Towards the end of November there were lots of specials online but even a drum set could not tempt our kid. He was locked on Furby.
My husband found him online and we received the desired toy in a box. He went all the way to the Eastern Cape with us for Christmas.
On Christmas day Nicky was so happy to get his gift. He was walking around with Furby the whole time. The reason Nicky is not in the Christmas dinner photo is because he passed out after having a tantrum about it. I refused to have the chattering toy at the Christmas dinner table. This was too much to bear and after an early morning his engine konked out as he was sulking over Furby on the couch.
For the next car trip on our journey we told Nicky that Furby needed to sleep. (That is what the sleep mask is for. Do not lose it!}
Furby has a few cute sayings that make me smile:
"Rock abye Furby on the tree top…."
"What the Furb?"
"Light as a feather, soft as a Furb."
"To Furb or not to Furb, that is Question." Very profound, Furby.
Actually Furb comes to an end pretty quickly if you have him going all day long. After 15-28 hours of being awake he needs new batteries. For us this lasted a few days and then we got rechargeables. You'll see Furby went along with us on holiday and even took the top bunk bed when we stayed over in Bloemfontein.
When we started school again my boss was curious about Furby since she'd also had the toy around when her kids were younger. Nicky brought him in for a "Show and Tell" and three other kids pestered their parents until they got the toy too.
The thing is, once a kid sees Furby, they are hooked. It's cute. It talks (own language, but anyway…). It's like a little friend, and it makes them laugh.
There are a lot of cool things that Furby can do, I'll just mention a few:
There's an app you can download and interact with on the IPad. There are also more things you can feed it on the app.
Furby has a few rude noises. He can burp and fart when you pull his tail. There's even a part on the app where you can hold him over the toilet. Gross, yes, but little kids love it.
When it wakes up he is normally hungry. He will ask to be fed and you put your finger in his beak. You will actually see the food flash past on his eyes (e.g. watermelon, pizza).
He has very expressive eyes and you'll see all sorts of movement on the eye screen.
When you've had enough of Furby you can put him to sleep with his sleep mask. He is very cute when he goes to sleep, most commonly saying "Power nap!"
Furby is available at leading toy stores and Vodacom too. He's available in blue, pink and purple.
For more info see this website.