The stunning clothes that are JenniDezigns are actually the work of a mother daughter team, who live in Knysna and London respectively. This team are working hard to make their brand global and clothe kids in many colours.
1. Tell us about yourself, a bit of background.
Established in 2015, JenniDezigns is a mother-daughter duo; Jenny the dezigner & Sam (me, her daughter) making sure the world gets to see Jenny's amazing craft.
From Sam:
Mom & I have had many adventures together, and now that all her kids are out the house, and I have my own children – who have just started school – we both have more time to invest in this new venture. Jenny lives in Knysna with her husband, and I live in London with my husband and two children, so we often laugh at a joke that we are a 'global' brand – hopefully something of the future in that!
From Jenny;
I have always loved to dress little girls in beautiful clothing which makes them feel like a princess. Over the years it became more and more difficult to find this clothing and I decided it was time to do something about it. Samantha mentioned that she thought it was time to play and show these dezigns to the rest of the world. JenniDezigns was born. The best thing is I get to play. Play with colour, fabric, textures and styles. There is nothing quite as satisfying and thrilling as having your dezign come together perfectly and then having customers who enjoy wearing it. So exciting. It keeps me awake at night.
2. What were you doing before you started this business?
Sam:
I was taking time out to have my children (Ethan now 5, and Kayley 4). In London that's pretty much a full time job as help is very expensive, and we do not have any family here to help.
Jenny: Supporting her husband in his consulting business, and raising their adopted laat lammetjie.
3. Is your business full time or part time and why?
The business is full time for Jenny, given her role as designer, lead on production – and she has the time… For me (Sam) its almost full time – I use the time the children are at school, and early mornings when the house is quiet.
4. How do you juggle the responsibilities of being a mom with your work?
Working from home adds another dimension to this question. I find it challenging to stick to the time when the kids are out to do my work – and not let it take over time with them – as its always just in the next room.
Jenny is very good at challenging me on this – when she sees it taking over. Its hard when you are passionate about what you are doing.
I have recently agreed with mom that Tuesdays are my day off – I use this to do my things, and get the house admin sorted, so the rest of the week is clear for the business. And then we both try to keep weekends free of work chat – otherwise it takes over every conversation.
5. Do you have a business plan? If so, can you share a bit about your strategy to make it successful?
We are coming up for our 18 month anniversary – and it has been a steep learning curve about the ins and outs of the fashion industry. But this has helped shape our future plans. We started with a rough idea, and wanted to put our designs out there and see what people thought. With such an positive response, we have jumped into a bigger plan than we initially imagined.
As a small team, we have to constantly check in with each other on what we are going to focus our energy on – otherwise it would be overwhelming (which it has been at times). Setting out upfront what we believe in, and who we are as a brand has been key to making the right decisions about production partners to work with, what we focus on as a design label.
Being passionate and believing in what you do gives you the edge to boldly go out and show your work to everyone (even if its a bit scary) – because you never know who will pick it up – and when it will be what they have been looking for!
6. How do you get clients/ market yourself?
We have set up a very good relationship with Out of Africa who sell our clothes at OR Tambo, CT International, V & A Waterfront, and a growing number of their outlets. We have been working on getting that relationship into a good place, and smoothing the production process that sites behind that. We are now starting to look into stocking our clothes in select boutiques in South Africa, and actively promoting sales through our website. Once this is working well, we will work on replicating this in other markets. We have already had approaches from the USA, Stockholm and the UK.
I have set up all our online profiles and do all the marketing/ new business strategy and approaches – with Jenny's stamp of approval of course. But as we have grown, I am starting to call on the experts in specific areas. E.g. PR & E-Commerce.
To enable the scaling of production – as Jenny cant sit and sew all our orders – we have set up partnerships with supplier across the country, and continue to work on these to support the 3 primary sales channels – as each works a little differently. Investment in the local economy is a key part of our business ethos and a key element of our partner choice.
7. What's your biggest challenge right now?/ Did you need a lot of money to start off? And how long was it before you made a profit?
Managing the ambition to grow quickly, with the time and effort it takes to set up the back end production to support this. Even from our short time in business we have seen the value in making sure this is working well, before promising buyers something you can deliver on. But this takes away time from the fun creative work that we both also enjoy!
Add in the mix the usual start up challenge of funding growth. Initially we considered seeking funding from 3rd parties – but all the forms and turnaround times were a real challenge. Thankfully my husband has been a very supportive 'Angel Investor'.
I would say that we are near to breaking even. And the plan is to be self-funding by the end of our second year of operation. In these early days profit is mostly redirected at growing the business.
8. What makes your business unique from other brands?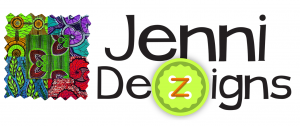 Classic, Quirky, African Print Children's Clothing for Every Occasion!
Our brand is passionate about allowing children to be children & with this the freedom to dress like children. We are excited about the vibrant, rich heritage of Africa Print and its increased profile in International fashion, and believe our brand can contribute to this by showcasing a local South African print – ShweShwe – and what it has to bring to children's fashion.
Our passion intertwined with the ShweShwe African Print & classic, vintage girls clothing styles is what makes a JenniDezigns Original. To tell this unique story, each dezign is given its very own African name.
Our current range is aimed at girls (boys are coming soon) aged 2-7 years, where every day is an occasion to get dressed for. The range includes practical every day and party wear. All made to the highest quality to ensure comfort and durability for active children.
Our target customer includes mom's, grannies (and other close family) who like to treat the young princesses in their lives – making sure they are dressed in bespoke, beautiful clothing.
Quality is important, and a non-negotiable for our brand. This label is Jenny's dream. To be able to do this with her is a privilege and great fun!
9. Share with us your social media links and website.
 www.jennidezigns.clothing  https://www.facebook.com/jennidezignsclothing  twitter.com/jennidezigns1  instagram.com/jennidezigns  jennidezigns@gmail.com