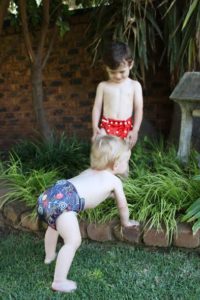 Cloth nappies can save you a ton of money, but the drawback for me has always been the schlep of washing them. Enter Baby Bottoms, who take care of that for you. You can even rent the cloth nappies from them. Today we are giving away a set of nappies for girls or boys – you choose the gender!
On Monday we met Courtney and she shared with us her story of how she started business, and how she uses routine to get it all done, as well as how supportive she finds both her husband and her mom. You can also see in the picture how she uses her nappies on her own kids!
This is how her service works:
I think what I also like about the rental is that your same nappies will be returned to you, so you'll have that same lot that will be washed together and not with some other child's.
They deliver everything you'll need to start using cloth nappies- the nappies, a wetbag (a small travel bag to place used nappies in while you're out the house) a dry bucket to store them in between collection days as well as the nappy liners you flush down the loo.
The buckets will be collected every Monday, Wednesday and Friday and be replaced with a new supply of freshly cleaned nappies for the rest of the week.
They sell, rent out and clean nappies – the cleaning service is currently only in the East Rand but they will be looking to expand in the future. Rental and sales are nationwide.
You can check out further details on their website here. For a month's subscription of cleaning, it starts at R629 and for both rental and cleaning it is R899.
We are giving away
An All in One Nappy
An insert
A Wetbag
Total value = R285
If you win you'll specify if you'd prefer the male or female version, and we'll make sure you'll have the gender specific pack!
All you have to do to win is comment below!
Check out Baby Bottoms website too! And find them on Facebook.
This competition will run for a week and the winner will be announced on our Facebook page and emailed. You must be a resident of South Africa to enter.